Endowed Financial Aid
A student body diverse in backgrounds, outlooks, and life experiences is critical to how students learn, the perspectives they encounter, and how they view the world around them. Great leaders are great problem solvers. And solving complex problems increasingly requires the skills to collaborate with people of all situations, viewpoints, and circumstances from across the world. Financial aid unlocks this diversity and creates an incredible learning environment for each and every Owl.
An Overlake Education is Life changing!
Overlake's ability to offer financial aid created a community of learners who are socioeconomically diverse and represent a variety of experiences, which enhances the learning for all students and develops the leaders of tomorrow. To ensure every student who qualifies for financial aid receives 100% of the assistance they need, and to increase the socioeconomic diversity of the student body, we've launched Phase II of our Doors to Discovery campaign for financial aid endowment. Our goal is to raise an additional $9 million, which will bring it to a total of $11 million. This support will also help fund the cost of attendance for families beyond tuition, including extracurriculars, transportation, textbooks, technology, trips, and more, making the entire Overlake experience possible for every student. This campaign will help give every student the same chance to discover the ideas and people that will give shape to the rest of their lives. A gift to financial aid endowment truly transforms the lives of all students — those who require financial aid as well as those who do not.
Financial Aid at Overlake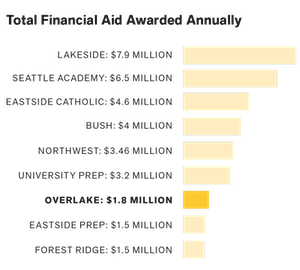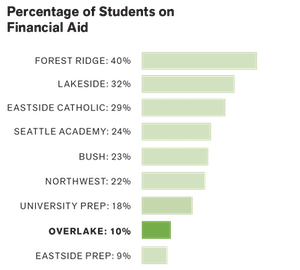 If it weren't for financial aid, I would not have been able to attend Overlake. I am thankful every day that I had that level of education for high school at Overlake, as well as the community, the engagement, and particularly the deep relationships with teachers. It's transformative. I would not have the life I have today if I had gone to another school.
Lauren Russell Nkuranga ('05)
Receiving financial aid allowed me to take advantages of the unique benefits offered by Overlake, and opened doors to so many opportunities even after I left Overlake.
Kirby Wetherbee ('18)
The Triple Win of Endowment Support
Supporting Overlake's financial aid endowment has multiple benefits for the school and its ability to truly serve the greater community.
Access.
Endowment support of financial aid is the key to providing sustained access to qualified students and their families regardless of financial means. It is foundational to Overlake's mission of admitting all qualified students regardless of their ability to pay. It also helps create a student body that represents the diversity of the community at large.
Sustainability.
Endowment support is an investment that grows in value and carries on beyond a donor's lifetime. It ensures the long-term financial health of the school. A financially healthy Overlake is an Overlake that can adapt to the changing needs of the community and the students it serves beyond what we can imagine today.
Community.
Research (including Forbes, Harvard Business Review, McKinsey, and more) shows that the most effective learning and decision-making happens when people come together from diverse backgrounds, experiences, and perspectives. Increasing socioeconomic diversity among our student population will kindle critical thinking and deepen discussions in the classroom, strengthening the education of each and every student.
Receiving financial aid allowed me to unapologetically pursue my passions and grow as an individual. I've had amazing access to support and resources I wouldn't have had otherwise that heavily shaped my experience. As an Overlake student, I was always encouraged to speak my mind and ask questions. I'm beyond grateful that I am able to bring these skills as I pursue higher education!
Elizabeth Chen ('21)
I have very fond memories of my high school years at Overlake. Thanks to the wonderful people who are part of the Overlake community, the experiences I had in those formative years helped shape who I am today. Attending Overlake would not have been possible without the assistance of financial aid, and I am forever grateful.
Miles Glew ('00)