On Why Giving Matters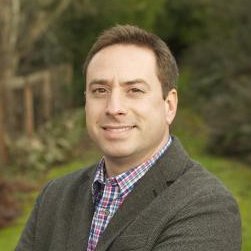 Mike Davidson, Middle School Head, shares his thoughts on why giving matters at Overlake.
I was happy to accept an offer to share a few thoughts with the Overlake community because we have something very important in common.
We share a conviction that school matters, that a school with a mission we believe in will draw students (like yours) who are driven and curious and talented and creative. It will draw educators who are committed (both professionally and personally, like good educators are) to bringing out the best in these students. That combination will develop kids who lead joyful, fulfilled lives, who set meaningful goals and expect to reach them, who behave ethically in this world, who find ways to be about something larger than just themselves.
I believe we share a commitment that Overlake is that kind of school. After 17 years in this community, I had better believe it is in the service of something special. You all have already shown that commitment many times. You committed as a family that your child, your children, would grow up in this community. You commit by putting your resources toward the cost of tuition each year. Many of you give your own time to the cause. Then, when asked, you committed even more as a donor, because Overlake is a cause you believe in.
In the end, all of that extra support you give to Overlake is in the service of one important, special word, a favorite of optimists and dreamers and true believers everywhere: YES.
That extra support we give (me too!) is not about keeping the lights on or hiring enough good people to teach the classes or keeping our campus beautiful. It is about being able to tell all of our great people - each in their own area true believers and full of great ideas about how to do it better… YES, make it happen. It is about those people turning to all of our students and saying YES, there is room for you, YES, you get to be a part of all of it, and YES, let's make that idea of yours happen.
Those YESES show up all over this community. A couple of years ago, Matt got to say YES to the dream of a four-course base teaching load, with more time set aside to collaborate and build curriculum and talk about how best to serve kids.
YES, we will have a full time instructional coach to push us to be even more effective in the classroom. YES, we will have a second coach devoted specifically to making us more effective users of the latest technological tools for teaching.
YES, we want you to go get that professional development. We will pay for it.
YES, when our librarian has a vision for how we can remodel and re-envision the library as a true Learning Commons, the central gathering space on campus, with the right mix of spaces and furniture for both individual study and student collaboration, let's do that.
YES, let's get to two full-time learning specialists, two full-time personal counselors, two full-time college counselors. Let's get our kids the support they need.
YES, let's bring in the right people from outside our community. Let's bring in Dan James from the Positive Coaching Alliance to spend a day with our captains and other student leaders in August to consider what it means to be a competitor, to be a leader. Let's bring in nationally regarded choral director Tesfa Wondemagegnu to work with our choirs. Or a professional choreographer to really push our cast in a musical.
YES, let's run our own bus routes and hire bus drivers on staff because that is the best and most equitable option to make sure all of our students have a way to get to school. Let's run a second late bus so that kids can play sports or build a robot or learn to play an instrument and still take the bus. Oh, and the sports and the robots and the music instruction available after the school day? YES to that too.
When our engineering club needs some funding to actually build a model aircraft or our science club needs funding to put on an official TEDx event or someone has the idea of inviting therapy dogs onto campus in between final exams in the spring, we find a way to get to YES.
YES, let's run an outdoor education program that has the right equipment to get kids out there. When you wake up at 4:00 in the morning to look up at the summit of Mt. St. Helens and then stand on top of it later that day, maybe the next hill in your life does not seem so steep.
We have dozens of amazing Project Week options for our kids, but the most transformative are often the ones that travel out of state or around the world. Those are expensive enough to price out some of our families, but YES, we offer financial aid grants for these, so that 98% of our students take such a project week trip by graduation.
So, thank you for all you do to build this community. It's a good community in which to work. It's a good community in which to learn. It's a good community in which to be a parent. Let's keep building.
Mike Davidson
Middle School Head