Experiential Education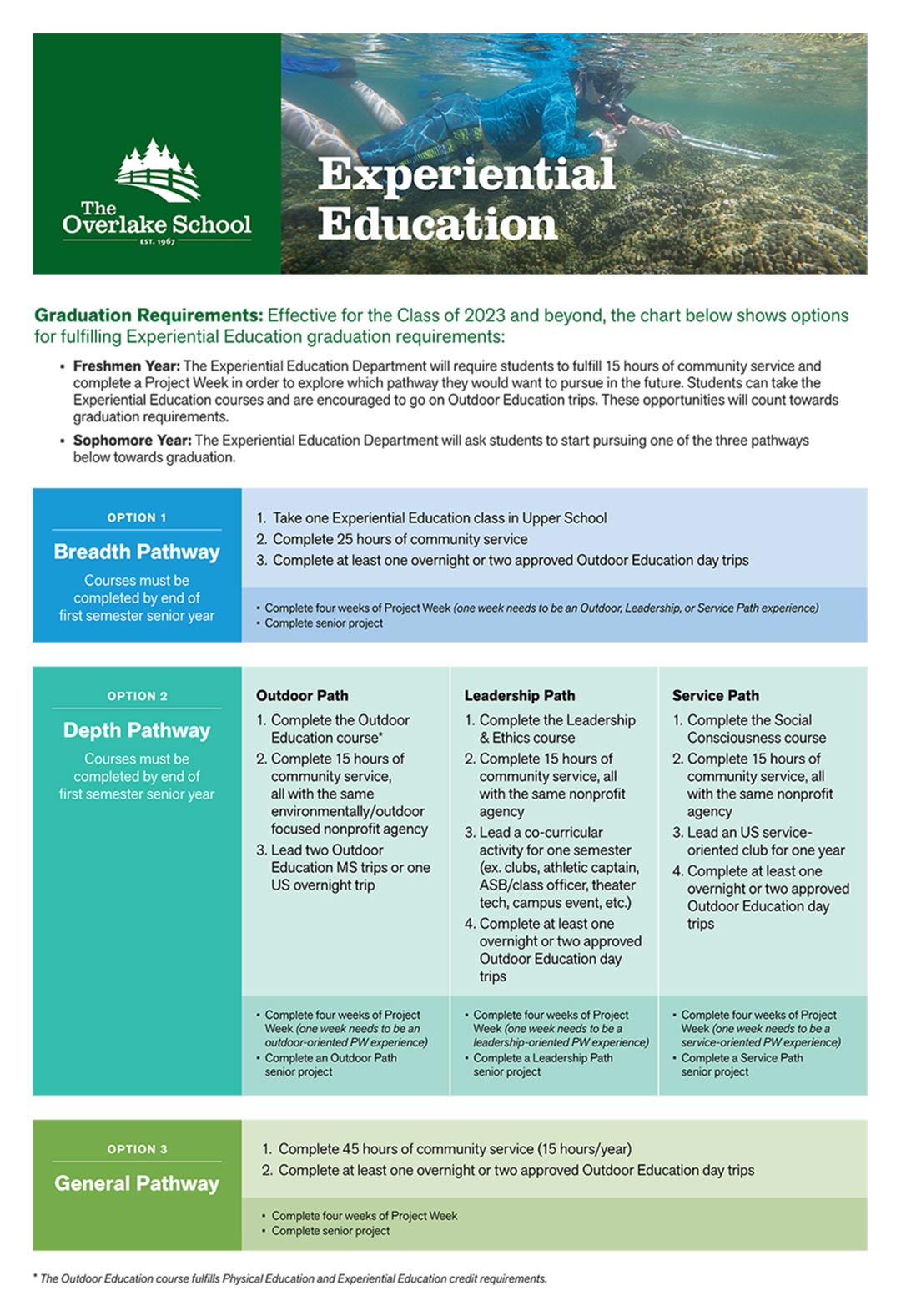 Mission
The mission of the Experiential Education Department is to Explore the unknown, Learn by doing, Lead by example, and Cultivate life-long learning.
At the core of an Overlake education is the ability to step outside the familiar, immerse in the unknown, and learn by doing. Experiential education happens when students engage in thoughtful, interactive, and authentic experiences and follow these experiences with reflection and critical analysis. By doing so, students develop relationships to self, others, and the world around them, and they are able to transfer their learning to future activities. Students must also take initiative and appropriate risks, make decisions and assume responsibility, celebrate success and embrace failure, and develop empathy for oneself and others. These principles are the basis for Overlake's experiential education programs. Students will have the opportunity to engage in these experiences in both Middle School and Upper School, and through academic classes offered in the Upper School.
Signature Programs
Outdoor Education
Overlake outdoor education programs emphasize cooperation, perseverance, judgment, and leadership by creating an experience in which wilderness activities challenge students to take healthy risks, to be in an environment where they need to take responsibility for their own actions, and to cooperate with others. Whether students are backpacking, snowshoeing, or sea kayaking, they will also develop an appreciation for the natural environment and learn the skills necessary to undertake various activities in the outdoors. 
Service Learning
Overlake's service-learning program supports the school's mission of fostering responsibility and cultivating compassion for others by introducing students to the complex needs of their local community. Students are invited to collaborate with non-profit organizations and encouraged to develop a passion for service by pursuing opportunities in areas of personal interest. By engaging in service opportunities such as facing poverty and hunger or environmental stewardship, students reflect on their experience and gain a better understanding of their role as responsible, caring citizens.
Project Week
Project Week courses are as varied as the students who participate in them, and Overlake sets this time aside to recognize the many educational experiences that take place outside the classroom. These experiences may involve projects in areas such as the Arts, Sciences, Service or the outdoors and can happen locally, domestically, or internationally, but all uniformly provide personal challenge, attend to group process, and engage students in meaningful reflection. Students also participate in group reflection in order to present their learnings to the greater community.
Leadership & Ethics
Semester elective - Fall

This course will explore the central concept of ethical leadership. Because this is a complex topic, students will wrestle with the uncertainty and ambiguity that accompany any discussion of morality. Students will work introspectively to examine their personal leadership styles in order to gain a better understanding of their own extrinsic and intrinsic motivations before looking outward. Students will also take an interdisciplinary approach to explore the concept of ethical leadership by examining contemporary issues in schools, corporate entities, and social enterprises, a wider perspective that will be gained through reading theory and case studies. As we unpack the concept of ethical leadership by looking at ourselves and others, we will explore several defining questions, including:
How does ethical leadership apply to my life presently, as well as in my future?
What are the responsibilities of leaders to establish ethical climates in their organizations and communities, and what are the tensions between these two spheres? 
What is the role of emotional intelligence and empathy in a leader's decision-making and how does compassion connect with morality and ethical decision-making?
Students will develop a toolbox they can reach for when faced with ethically complex challenges in their lives beyond the classroom. Ultimately, this course will push students to better understand the pathways through which they are already making ethical decisions, and as they reflect and learn, they will start to think about ethical leadership in deeper, more complex ways. Life is about navigating the gray areas—the complexities that don't have a clear one-size-fits-all answer—and this class will foster an ethical fitness in students to help build their propensity for not just working their way through that ambiguity, but for leading others in that process.
This class will feature a highly interactive learning environment, requiring students to reflect and actively engage in class activities and discussion each day. There is a degree of risk-taking involved in being a leader that students will gain experience with through the format of this class. Students must also participate in an immersive capstone project the week of January 2, 2023 in order to apply their formal knowledge from the course to local professionals, industry, and real world experiences.
Social Consciousness
Semester elective - Spring

*for students in graduation classes of 2023-2024, you will receive 30 hours of community service towards your graduation requirment
The goal of Social Consciousness is to explore how to engage in service learning as effective and ethical agents of change locally and globally through the exploration of three thematic questions:
How does one's own cultural identity impact the way we interact with others and the assumptions we bring to service?
What is the role of a non-profit in the public sector?
Why might reflection be a critical skill when one seeks to do service?
Students will be asked to explore these thematic questions by focusing on one of five overarching issues:  poverty, health, education, human rights, or environmental issues.  Before deep-diving into an issue, students will first be asked to explore their personal assumptions of issues and how their lens impacts how students think and how students interact with the world. Students will be required to participate in a two-day service learning trip, January 26-27, 2023. Good intentions are often difficult to link with good results without a diverse team, so student groups will partner with a vetted non-profit for the duration of the semester. Together with the non-profit, students will set learning goals and study the context of their selected issue from experts who are directly experiencing the problem. Students will be able to demonstrate skills and habits of reflection on their selected issue through the method of writing, observing, analyzing, and engaging with others in supportive discourse. Students will then complete a capstone project working alongside the non-profit partner. This course also examines best practices in service learning work, including identifying issues of reciprocity, building cultural competency skills, and exploring links to academic learning.  Students will engage with classic as well as contemporary texts in the field and reflect on their own past and present experiences in service as individuals – within their various spheres of life including families, neighborhoods, communities, schools, and other systems. 
Outdoor Education
Full-year upper school elective earning .5 credits. Class meets during the first semester only and students must complete the required number of trips by the end of the second semester. There will be additional costs to cover equipment rental, food, and the use of off-site facilities.
*Also completes a PE elective
This course will provide students with the opportunity to learn about leadership and wilderness first aid in the classroom while gaining skills and experience in the out-of-doors on weekends. Students will attend class during the academic day for 4 times out of the 8 day cycle throughout fall semester and have free block for the remaining days. Students will also be required to participate in a 4 day backpacking trip, Oct. 13-16, 2022. Students will then need to participate in at least 4 days worth of trips over the course of the year to complete this credit, with one of these trips as an Upper School Leader on a Middle School trip. In the classroom portion students will be required to pass a wilderness first aid course addressing all of the major causes and treatments of problems and injuries in the wilderness. Students may select trips that introduce them to low-impact camping, backpacking, map and compass navigation, kayaking, rafting, snowshoeing, rock climbing, backcountry skiing, mountaineering, and wilderness first aid. The class will be limited to 12 people to accommodate wilderness use size limits.
Fall trips have included: river kayaking, mountain biking, hiking, rock climbing, whitewater rafting, sea kayaking, backpacking, avalanche awareness, mountaineering, and wilderness first aid.
Spring trips have included: mountaineering, winter camping, snowshoeing, cross-country skiing, backcountry skiing, mountain biking, rafting, sea kayaking, avalanche safety, and rock climbing.