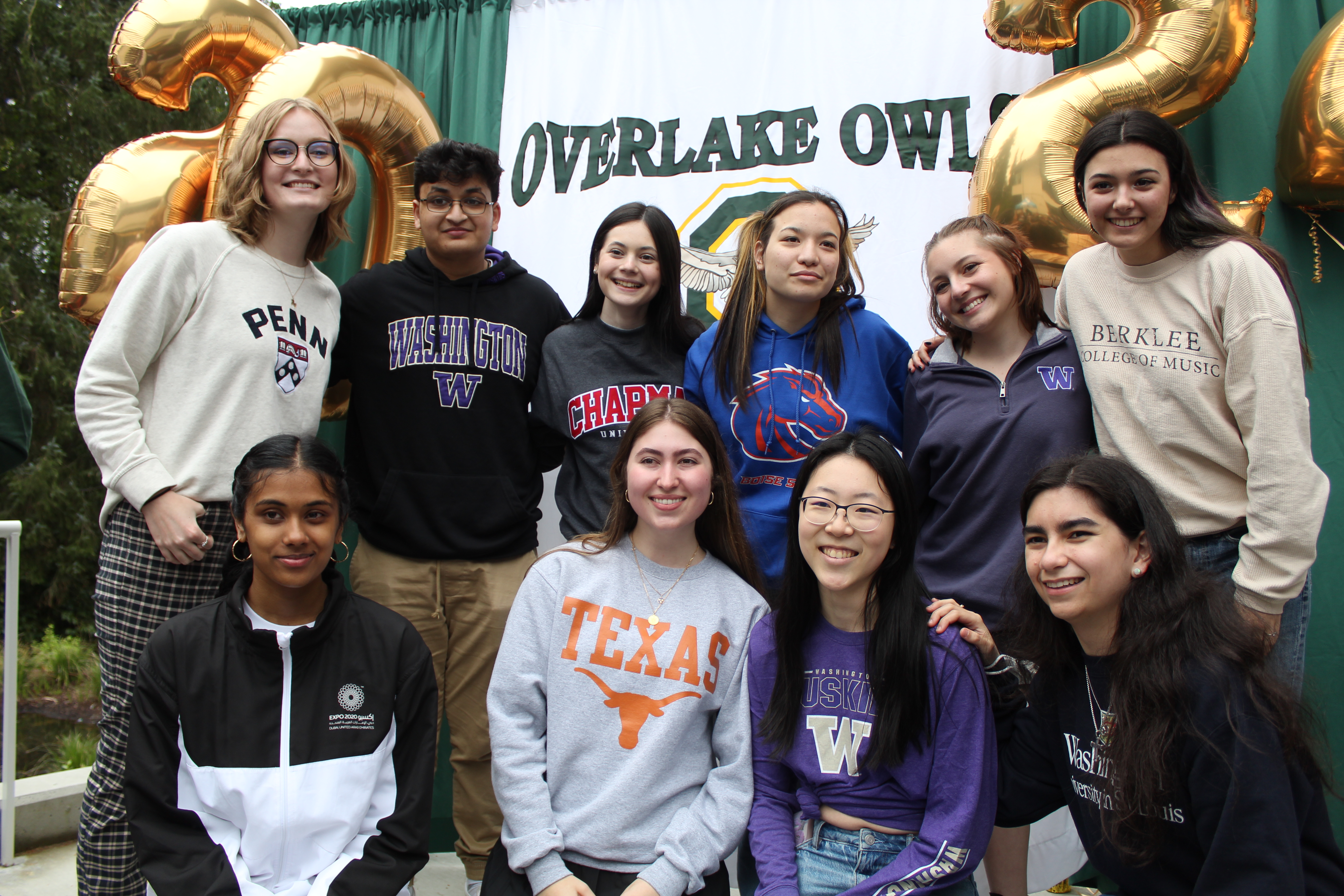 To schedule a College Rep visit, email Regina Quiban or call 425-602-7040
Overlake is committed to helping students and their parents make informed decisions about college planning and college selection. Beginning in 9th grade with a focus on academic planning at Overlake and for college, Overlake's College Counseling program is comprehensive, providing individual counseling with students and their parents as well as a wide variety of group programs to educate them about college entrance exams, college options, resources, and admission procedures.  Our goal is to prepare students to make informed decisions regarding colleges that provide a good match to their own interests and needs, recognizing that there will be more than one "right" college for each student.
9th Grade
Academic planning
Overview of college planning & admission
10th Grade
Self awareness
Exploration of college and career options
11th Grade
Identification of interests & priorities
Discovering colleges that match interests
12th Grade
Effective interviews, essays, and applications
Making informed college choices
Individual Meetings are scheduled with Juniors and their parents to discuss academic interests, their priorities for college selection, any special needs or circumstances, and the steps necessary to complete the admission process in a timely manner. A preliminary list of "matched" colleges is either generated or reviewed, as well as the steps for developing a comprehensive and effective college application. Meetings continue, as needed, to refine the college list and develop comprehensive and effective college applications.
College Day/Night Programs are held for students and parents to provide an overview of the college planning process and insight into how college admission decisions are made. The following programs and workshops are planned to address a variety of specialized topics such as: college search, testing, and financial aid for college.
College Advising Meetings are designed to address college planning issues such as testing, campus visits, college selection, college interviews, and the college application process. 
College Tour for Project Week is TBD. This popular program is open to students in 10th and 11th grades and provides an opportunity to explore a wide range of colleges. 
College Reps Visit Overlake each fall to inform students about their colleges and address student questions. These meetings provide a wonderful opportunity for students to meet with folks who are often members of the admission review committees at their colleges.  A list of scheduled visitors is posted on SCOIR under the "Events & Deadlines" section. If you are a college representative, contact Regina Quiban.
The Graduates Return Program provides Upper School students with an opportunity to hear from recent alumni about their experiences in college. It is one of a number of activities that is geared toward preparing for a smooth transition to college. 
Overlake's College Link Network facilitates connection between Overlake students and alumni who are currently enrolled in college. Volunteer alumni serve as resources for students interested in knowing more about their college experiences. The list of alumni who have volunteered to participate in our College Link program is available in the SCOIR My Drive (please see below for information about SCOIR). If you are an alum, you can sign up to volunteer for College Link.
Seattle Area Independent School (SAIS) College Fair – this annual college fair, in which Overlake and other local independent schools participate, further facilitates college exploration by bringing top-notch colleges and independent school students together.  
PSAT exams are administered at school for Overlake sophomores and juniors. For testing dates please refer to the school calendar. 
SAT and ACT exams are not administered at school. Students are encouraged to schedule at least one SAT and/or ACT during the spring of the junior year (preferably the May or June test dates). These exams are offered at neighboring schools many times during the school year.  Check these testing websites for details: sat.collegeboard.org for the SAT; www.actstudent.org for the ACT. 
Extended Time testing – Students who want to pursue extended time testing for the PSAT, SAT, or ACT should schedule a meeting with Overlake's Learning Specialist regarding documentation deadlines, requirements, and scheduling.
Scoir is a comprehensive web-based service designed to facilitate college planning, research of colleges/scholarships/careers and manage student profile information. All Upper School students and families at Overlake have access to Scoir for information related to college and career planning, college scholarships, summer enrichment opportunities, and programs sponsored by Overlake's College Counseling department.  
If you have not activated your Scoir account, or have any questions, please email Regina Quiban.
The College Resource Library is located in the College Counseling office which is in Overlake's Library.  It provides many college guides, catalogues, and test preparation materials that are available for loan to students and parents.
Overlake's College Counselors help students recognize their college options and the pathway towards achieving their educational goals.   Good communication among students, parents, counselors and teachers, coupled with orderly planning and management of the college search and application process will lead to the greatest success and smooth transition to college.
Additional Information
For additional information or to schedule an appointment with a counselor, please contact:
Kate Asgari, Director of College Counseling, 425-602-7039
Chris Kuipers, Associate Director of College Counseling, 425-602-7038
Regina Quiban, College Counseling Assistant, 425-602-7040
All Upper School students and families have access to Scoir, a powerful college search and career planning tool. The Overlake College Counseling office will use Scoir to communicate with students and families during their college planning and application process as well as to electronically deliver student application materials to colleges. The Overlake College Counseling team is very excited to be able to provide this service to our students and families, and we feel confident that you will find it helpful and easy to use. Log in to Scoir
If you have not activated your Scoir account, or have any questions, please email Regina Quiban.