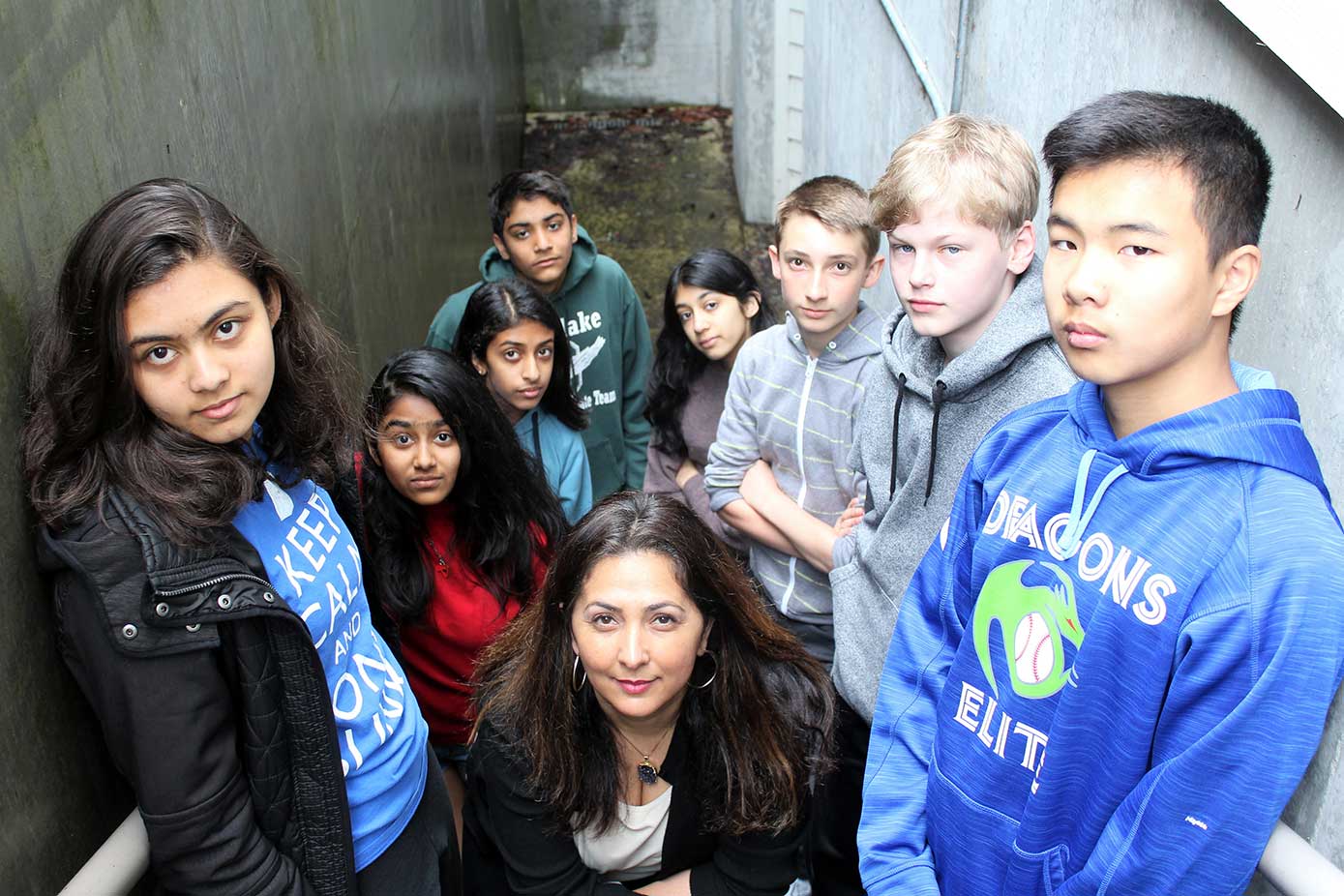 The Overlake School community is committed to being inclusive of all of its members while preparing students to effectively and productively participate in a global and multicultural world. Our curriculum and community honor a variety of traditions, value a diversity of cultures, and respect the contributions of all people.
At Overlake we challenge one another to examine the dynamics of diversity from a global/multicultural perspective so that we can become responsible citizens dedicated to social justice and service learning.  We strive to provide a safe place for students and faculty to step out of their comfort zones and discuss issues of race, ethnicity, gender, religion, socio-economic status, sexual orientation, learning style and disability.  By exploring the dynamics of our diverse world and nation we believe our students will be responsible citizens long after leaving Overlake. 
Diversity, Equity, and Inclusion - Defining Our Commitments at Overlake
At Overlake, we believe that enhancing diversity, equity, and inclusion within our school community is a journey of both moral and educational importance, and a learning and growth experience for our whole community. We recognize that the richness inherent in an educational culture is comprised not only of the curriculum and pedagogy, but also in relationships between students, families, teachers & staff. As a community, we share a sense of purpose, form common goals, and learn together. We recognize our responsibility to society at large and seek to prepare our students to be engaged citizens and humble leaders of the world. To this end, we are actively building a school that fosters a sense of belonging for everyone, furthers an understanding of our common humanity, and represents our community and the world in which we live.
The Educational Value of Diversity
The Overlake School's commitment to diversity is grounded in our goal of preparing students to become responsible, active participants in our increasingly global world.  By successfully building a global, multicultural community, we will establish the following:
An environment that instills the self-confidence to enable individuals to develop and express their own opinions and the respect to willingly listen and learn from perspectives other than their own.
Relationships strengthened by a collective experience in which differences are resolved through engagement, discussion and mutual understanding.
An appreciation for the richness and complexity that exists in individuals, social groups, and our broader communities.
The freedom to make personal choices and the ability to reflect on the implications these choices may have on ourselves and those around us.
The ability for our students to investigate new ideas, challenge old stereotypes and establish their own unique identities and value systems. 
The Overlake School defines diversity as all the meaningful and varied identities of individuals and groups present in our school community, our home communities, our nation, and the world at large. These include, but are not limited to: ability, age, ethnicity, gender, race, religion, sexual orientation, and socioeconomic status.
We acknowledge that each of us identifies with multiple identities and that these complex identities have an impact on our social experiences – including perception, status, privilege, opportunity, and access to resources. We recognize that diversity creates situations in which groups are advantaged or disadvantaged and that experiences can be varied both within and between different groups. 
At The Overlake School we embrace diversity, it makes us stronger and is integral to excellence in learning.  
 Sources: Independent Sector, Blink consulting, The Northwest School
Equity means each child receives what they need to develop to their full academic and social potential:
Identifying and removing barriers that prevent high outcomes for all participants in our educational system
Interrupting inequitable practices, examining biases, and creating inclusive multicultural school environments for adults and children
Discovering and cultivating the unique gifts, talents, and interests that every human possesses
We acknowledge that equity is not a box that can be checked off, but an ongoing process to counter systems of oppression.   
Overlake recognizes that when student's academic, social and emotional needs are met, they are free to excel and thrive. To that end, Overlake engages in ongoing reflection and adaptation in pursuit of equity.
Source: http://nationalequityproject.org/about/equity
Cultural competency is the application of a defined set of values, principles, skills, attitudes, policies, and behaviors that enable individuals and groups to work effectively across cultures. Cultural competence is a continuum that evolves over time for both individuals and organizations. Cultural Competence is the means by which institution are equitable and inclusive.
Cultural competence involves development in four key areas:
gaining awareness of your cultural selves
gaining awareness of the cultural identities of others
becoming equipped and empowered with language and tools to engage in conversation about diversity, equity, and inclusion
becoming equipped and empowered with the language and tools to create socially just and equitable systems
The Overlake School believes that cultural competence leads to equitable and inclusive institution where everyone can thrive.
This definition is a hybrid of these sources: AIM: https://www.nais.org/analyze/assessment-of-inclusivity-and-multicultura… Park School: https://www.nais.org/magazine/independent-school/fall-2018/online-exclu… Cedar and Burwell: http://www.cedarandburwell.com/