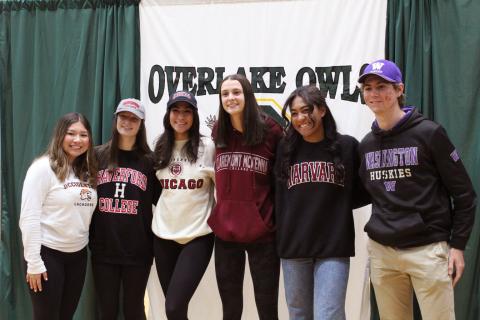 These Owls are ready to fly the nest and are heading out all over the country to become college athletes. Six members of the class of '22 signed their letters of intent to play for their chosen college in a wide array of sports including lacrosse, softball, volleyball, and soccer.
Students, teammates, and families showed up to the Gym on Wednesday to eagerly support their athletes as they signed on the dotted line. Proud families brought college paraphernalia and balloons to decorate their athlete's table and make the day extra special.
Athletic Director, John Wiley opened the afternoon and spoke about the student's athletic dedication, but also about their work ethic, volunteer work at and outside of Overlake, their collective high GPA, and their leadership and mentoring work at Overlake.
Wiley also noted that typically only about 7% of high school athletes will go on to play at the collegiate level and already, Overlake is exceeding that number. In addition, while these six athletes are signed their letters of intent this week, more student athletes would most likely be making their declaration as the college admission season continued.
Join us in congratulating the latest Owls to become collegiate athletes and check out a slideshow of some pictures from the day!
Egor Akulov, University of Washington Soccer
August Hunter, Harvard University Soccer
Diya Mishra, University of Chicago Volleyball
Rachel Sapirstein, Claremont Mudd Scripps Softball
Addie Sapirstein, Haverford College Softball
Olivia Okamoto, Occidental College Lacrosse