Overlake's Debate Team is going Strong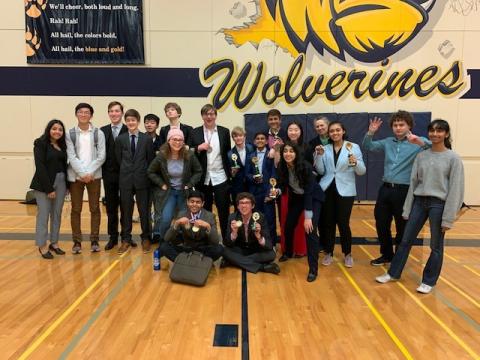 Public speaking, debating, researching, rehearsing. All things the Overlake debate team spends hours each week doing.
"When the team began, we were essentially a couple of freshman who attended a single tournament in an entire year. Watching the size of the team explode over the past few years and become a formidable force in our district has been incredible. I hope to see what future Overlakers can bring to the team in the coming years!" said Kunal S. ('20).
This year, parent Robin Monteith stepped in to coach the team after their previous coach left mid-season last year. She's no stranger to the program, as she has driven the bus as well as chaperoned tournaments in the past. That led to her to step in as coach this year. Monteith recalls how her son, Andrew ('20), took an interest in debate his sophomore year. It was her first introduction to the sport, but she ended up loving it and volunteering more and more.
"I love it. There has been a huge learning curve. I could probably do it for 10 years and there would still be more to learn," Monteith said. She loves learning more about the field and spending time outside of class with the kids, getting to see a different side of them.
Not for the faint of heart, debate is hard work, but the students love it. The team practices 2-3 times a week for an hour and a half. Even outside that time, students often put in many hours of research and practice on their own. To prepare for tournaments, students are given a topic they will debate, including 300 pages of research, which the students continue to build on. The topics are highly relevant and political. Some examples of debate topics are, 'The US should end all economic sanctions on Venezuela' or 'The US should institute a universal basic income.' At the start of the debate, a coin flip determines whether the students will argue in favor or against the topic, so they have to be prepared to argue and refute the weaknesses of either side.
Competitions involve several events in addition to the debates including, memorized, informative, persuasive, unprepared, and interpretive speeches. Monteith encourages students to try out multiple events. "What's fun for me to see is them try different things when they're not feeling that confident and then surprise themselves by how well they do."
The debate team has helped students step outside themselves and learn how to present topics and speak publicly. "Speech and debate has allowed me to be more confident in my speaking and advocacy abilities, and have allowed me to implement them both on Overlake's campus and outside of school," said Yoni R. ('20)
With more than 25 students and one coach, the students often engage in peer to peer teaching and learning during practices giving constructive feedback and helping each other improve. Many Upper School students have been debating for several years now and love the chance to mentor students in younger grades.
"More than anything else, speech and debate really gave me an enjoyable experience that will stick with me for the rest of my life. The team is a group of students made up of all grade levels from freshmen to seniors that work closely together. We quickly became friends and mentors since day one," explains Annie C. ('23).
With three students already qualified for the national competition, and at least two more halfway qualified, the Overlake debate team is pushing forward into the future and excited to see how it can grow.