The Actor's Life on the Theatre Stage and Movie Set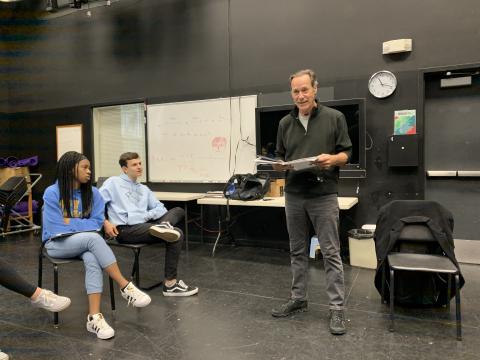 Call it Overlake's version of Inside the Actor's Studio.
Veteran actor Grainger Hines spoke to drama students about his craft, his journey into acting, and his numerous credits in film, television, and stage. 
Hines is the brother of long-time Overlake staffer Margaret Lynch. His visit to Overlake coincided with a family visit to Seattle. 
His advice to aspiring young actors is simple. Work hard and don't get disillusioned. "This business changes on a dime, and you never know what's going to happen," Hines told the students. "I did a starring role in a Coen brothers movie, The Ballad of Buster Scruggs. For almost a year after I completed that movie, I didn't work. It's the craziest thing in the world and a strange business."
Students got an inside look into the industry from the audition process, relationships with agents and directors, and the difference between acting in front of an audience and a movie camera. His decision to get into acting wasn't a lifelong goal as he started his career playing in a band. At 22, his passion to tour and record music just wasn't there. His creative energy to perform to an audience was, and that's when he began acting. Starting on stage in a production in Atlanta, Hines then moved to New York where he continued in plays but was now getting roles for television and film. Just months after that he found himself living in California and auditioning for Hollywood films.
With the laid back vibe in the Black Box Theater, students were able to ask questions and discover that the acting industry is more of a job rather than the glamour of tinsel town. Asked if he prefers acting on stage to film, Hines gave an honest answer. "I don't really care. You're going to make a lot more money making movies, and the theater is tough work, but I really love working in it. The work is the same...the preparation a little different, but I really don't have a preference," explains Hines.
Click here to learn more about Grainger Hines.