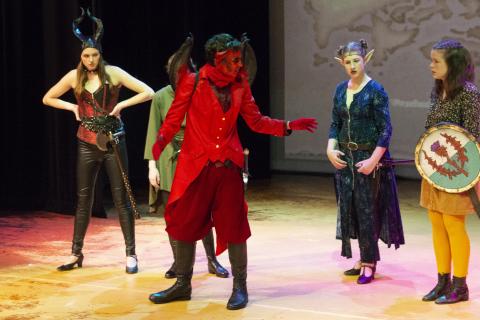 The fall theater productions open Friday! Make sure you see both plays being put on by the Advanced Drama Class. The class will put on not one but two shows, She Kills Monsters, and Anon(ymous). The class fell in love with both shows and has embraced the challenge of preparing multiple shows for a single stage.
The weekend will open on Friday with Anon(ymous) and continue on Saturday with both shows in a marathon of matinee performances followed by an evening show.
Each show invites the viewer to consider an underrepresented group and experience a story through their eyes. Anon(ymous) follows a young refugee boy separated from his mother who must journey through the United States encountering a wide variety of people as he searches for his family. The story mirrors the story of Homer's Odyssey.
She Kills Monsters is a humorous journey through the world of fantasy role playing games. The heroine embarks on a journey after the death of her sister to learn more about her from her Dungeons and Dragons notebook. But she finds more than she expected and discovers her late sister's refuge full of fairies, ogres, and plenty of '90s pop culture references.
Tickets are available online at Showtix4u.com or at the door.
Please note that She Kills Monsters is rated PG-13.