Student Ambassadors Important Role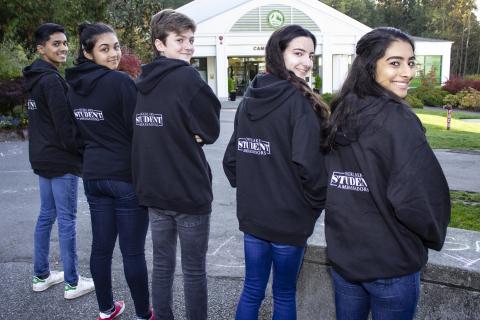 As our Admission Department ramps up for a busy application season, there are several Overlake students who will be working with the team to show prospective families what is so special about our community.
Student Ambassadors not only lead tours, but allow prospective families to go beyond the brochure. From answering questions about student life to sharing stories about personal experiences, student ambassadors give an insight into the life of an Overlake student. "They are so much more than tour guides," says Assistant Director of Admission, Teron Sutherlin, who leads the service program. "In addition to being a road map to our campus, their ability to be candid with our prospective families with their experiences is a piece that we can't fulfill as Admission. For our 7th grade student ambassadors, they're able to model the trajectory of an Overlake experience to prospective new Middle School students. The Upper School schools go out of their way to make our visitors feel comfortable and have knowledge to answer any family's questions about student life here. Their perspective is like no other and can be the most important in choosing the right place to go to school."
Alexandra P. ('21) and Adit H. ('21) are both student ambassadors. Years later, they still remember the importance of that interaction. "When I was a fourth grader everyone was so warm and friendly when I visited Overlake and knew it was the place I wanted to be," says Adit. "I wanted to give back to Overlake in the same way." Alexandra shares a similar experience. "I visited a number of schools and my time with a student ambassador really confirmed to me that Overlake was a good place for me. I want visiting students to have that same experience that I did."
Made up of 78-student ambassadors including seven leaders, the program is made up of a diverse group of students with various interests and passions. "There's a wide range of students who are a part of this one group. Student ambassadors are athletes, artists, highly involved in STEM, JSA and BSU. They're pretty different but cohesive as a group with a passion to tell folks about Overlake," adds Sutherlin.
This year, the group assisted with our Back to School nights and are now preparing for our first admission open house on October 26. They'll also lend a hand to help visitors during SSAT testing, ArtsFest, and admitted student receptions. "Even if people aren't part of the admission process or choose not to come here, we know that their experience and memory of Overlake is a positive one because of our student ambassadors," says Sutherlin. "That's more important than anything."