Yearbook's Small but Mighty Team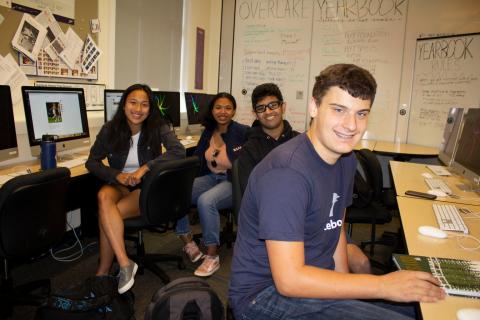 Meeting in the media lab during zero period is a small but mighty team of historians. This five-member group has been working all year to collect and commemorate all the campus happenings of this school year in one book. "In making the yearbook you get to look at all these different parts of students' lives. It's just a great way to know the community," explains Yearbook Editor and Senior, Vivek P.
Vivek has been on yearbook staff since his freshman year. He says the opportunity to help leave a lasting legacy was the allure. "I've always liked seeing the yearbook and getting it at the end of the year and seeing how people encapsulated an entire year in one book. I just thought that was a really cool concept and that was enough to capture me as a little freshman, and after that year I felt like it was kind of my responsibility to continue."
That responsibility is shared among the team of five who divvy up particular yearbook pages, looking for that great picture and caption to capture the event. "I have homeroom, girls' soccer, girls' tennis, student life pages," says Senior Kayla N. "It's fun that you get to do a whole lot of different areas, not just one."
And while Kayla works on finishing her pages for the next deadline, others on the team are also working on their computers to create lasting memories of school life. "I've always been the kind of guy who likes looking at old photos, not from the sense of nostalgia, but I like the historical part of what is going on in that photo," says Junior Adam G. "That translates to working in the yearbook, where I prefer more candid photos of students in their natural habitat. I think it's more visually interesting."
Adam will be taking on the role of Editor for next year's yearbook. It's a big responsibility that he'll shoulder. "When I move forward next year there is definitely a large sense of responsibility in knowing that everybody really likes to look at the yearbook at the end of the year and it has to adhere to a pretty high standard." 
Adam will be looking for help, as he looks forward to next year's creation. He says waiting in the wings are Middle School students, some who have already helped in this year's book. "Right now, we have MS Yearbook club that I think next year going forward we could give them more responsibility with pages. I would encourage them to join and meet other people that you might not normally get to spent time with."
Like Vivek did, current eighth graders who are looking to broaden their friend network can join yearbook next year and have the opportunity to learn and create alongside juniors and seniors.
"The best part of being in yearbook is putting in all the work during the year and then getting the tangible product at the end of the year that you know people years from now, the fifth graders to the seniors here will be looking at that book with their kids 20 to 30 years from now," says Vivek. "That's what's kept me going in yearbook and that's why we should all consider making the school's yearbook and making something that will last generations like that."
As this year's staff puts the finishing touches on the yearbook, our community can expect to see the fruits of their labor in just a couple months.