Transportation Prepares for Winter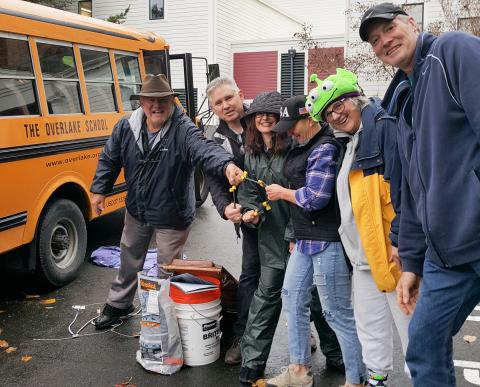 In preparation for winter weather our Overlake Bus Drivers conducted their annual Winter Preparation Training. This included each member of the transportation team practice installing chains (aka cables) on their buses.
In compliance with the Washington State Department of Transportation guidelines for chains for commercial vehicles, the chains are supplied in our school buses from November thru March. The school buses are also supplied with buckets of salt, shovels, deicer.  In addition, a relatively new winter weather tool called snow socks are provided in the buses. The socks are quickly and easily installed on the drive tires, and provide superb short term traction.   
Bill Neil, Director of Overlake Transportation, said it is paramount that our drivers have been fully trained on all aspects of driving in inclement weather to ensure the transportation for our students is as safe as possible.