It's MS Election Day at Overlake!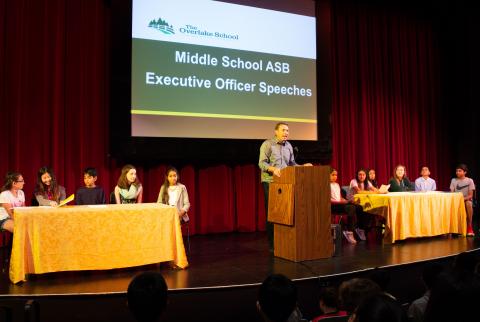 Vying for three executive positions, Middle School students heard speeches from 11 candidates. 
Fifth to eighth graders are voting Friday for ASB Secretary, Vice-President, and President. "Every one of the kids standing on this stage impress me," says MS Head Mike Davidson who moderated the event. "It's hard to sit under the lights and stand up in front of your peers and say 'Hey, this is why I'd be good for something'. That isn't easy."
The objectives of MS ASB are the privilege of serving in a representative government, promoting school spirit, promoting and improving student life, and having a process by which to solve student issues.
Campaign signs throughout campus have been a useful tool in attracting attention, but Friday morning's speeches just ahead of the vote allowed each candidate to get personal with the student body. Students went off to study hall and lunch to vote electronically for their choices. At the end of the school day, the votes will be tabulated, and the winners will be notified over the weekend.
"Voting is a personal thing. I'm encouraging students to keep their vote private and realize that when they do so that they're being heard," says Davidson.
The new MS ASB Executives will be introduced to the student body at Tuesday's announcements.
Click here to see photos of our candidates making their speeches, and congratulations to all our candidates!