College Counseling Personalizes Search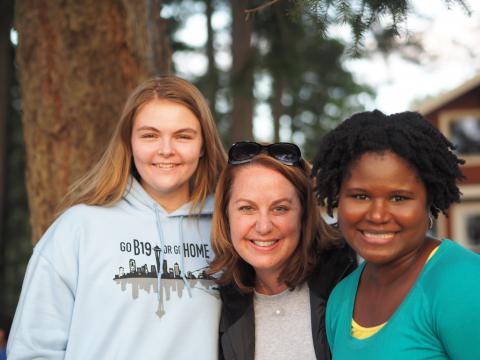 With thousands of colleges and universities in the United States, finding the one that best suits our students can be a daunting task. 
Overlake's College Counseling department works with each Senior to find that perfect "fit". "We try and create that tailored plan specific to each student," says Kate Asgari, College Counseling Director. "Every student has a completely different timeline depending on the schools to which they're applying. We've been seeing their story unfold since 9th grade so our goal is to tell their story beyond the academic experience. This way the college gets a sense of the person beyond the transcript."
The works begins in the 9th grade with exploration of interests and experiences. By the time an Overlake student begins their Senior year, the preparation for college applications becomes personal. 1:1 college plannings are a start, but moves quickly with college representative visits and refining college essays. 
By helping students and their parents make informed decisions about college planning, the goal of the college counseling team is to have the student make a selection that begins their life journey. The team also works with parents who may have stories or highlights about their child's accomplishments. "It's important that students feel supported by their family," adds Asgari. She recommends parents work with their Upper School students on developing many of the life skills that they will lean on once they are out of the home and on their own. "Parents can help their kids with skills, like cooking, cleaning, social and emotional well-being to show them what they're made of, because that's what is going to lead to their success in college. The A-plus student who has been concierged for the last four years tends to struggle in college."
Assistant Director of College Counseling, Tanya Cummings and Counseling Assistant, Auzzie Sheard are part of Asgari's team. They agree that Overlake's approach to individualized attention allows students to worry less about a ranking. It's about finding their place for the next four years. This week, the Class of 2019 have begun their 1:1 meetings with assigned counselors. "Our personalized approach lets the student know that they're more than just a test score or an AP grade," says Cummings. "Our job is to call out some of the things take make our kids unique and let schools know how wonderful our students are when sometimes they may be too humble to call them out on their own."
And for Sheard, who more recently has been working and studying on a college campus, having his voice and experience to lend to the students is an invaluable, real resource. "At this moment I don't know who I want to be yet professionally, but I have a very strong idea of who I want to be, so keeping track of that and staying on the right track on a personal level you'll end up somewhere that you're pretty happy."
Early decision applicants begin find out if they've been accepted to their top choice by the end of December. While it can be a great time of joy for those accepted, not everyone may want to share in the celebration in the same way. College counselors used last week's retreat to discuss rules decided by the class to not gloat. Asgari says it's also important for the entire Overlake community to recognize that it's also a very stressful time for many of our seniors. "The fact is that there is no single nirvana, and there are so many places where one can go to school and be happy," Asgari explains. "We should be asking our Seniors, 'Are you doing what you love?' because this notion that college is some end point is a huge let down. Students discover that when they're in college."
Most importantly, Overlake's college counselors work as a team. They're always available to our students even if it's not with their assigned counselor.