Meet the Co-Chairs Behind This Year's 50th Gala- "Cheers to 50 Years"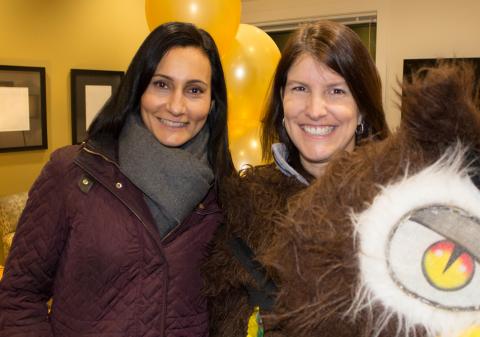 Overlake parents Cecilia Whatley and Katie Boland have been busy planning what promises to be a magical night for our community. Cheers to 50 Years is set for February 10 at MOHAI (Museum of History and Industry) in Seattle. We spoke to the event's co-chairs to find out what's in store for the special evening.
First off, how did you come up with the name "Cheers to 50 Years"?
We wanted to have a theme that will reflect the importance of our celebration as well as include everybody in our community. Cheers to 50 Years, calls for a special celebration! It celebrates our past, present, and future.
Since this is our 50th year, how is this event a bit different from previous auctions or galas?
We wanted to design an event that celebrates our community. This event is a celebration where the main focus is to spend time together. Parents and staff will be happy to see old friends and make new ones.
In previous events, you were mainly limited to interactions with the people at your table. This event is a free-flowing event where you can chat, have a drink, and eat yummy food at your own pace while walking around the beautiful MOHAI displays. Of course, we feel very honored to introduce to our community the special financial aid endowment fund entitled, The William C. and Annalee F. Armstrong Financial Aid Endowment Fund, where through a fund-a-need activity during the evening, everyone will have an opportunity to support financial aid in the name of such a legacy couple.
 
What can attendees expect at this year's event?
There will be food stations and activities to get people mingling at MOHAI. There will also be opportunities to purchase community building events like a Gola party, wine and painting party, paella party, etc. that are great ways to continue to celebrate the Overlake community, even after the gala.
Why did you both decide to take on the duties of co-chairs of this event? We're sure you have other things going on in your life that keep you busy!
We are so happy to work as partners with the development team. It is an honor to serve our school during the 50th anniversary. Being an active part of organizing a celebration for all our school community has been wonderful and we sure hope that everybody can join us in celebrating 50 years!