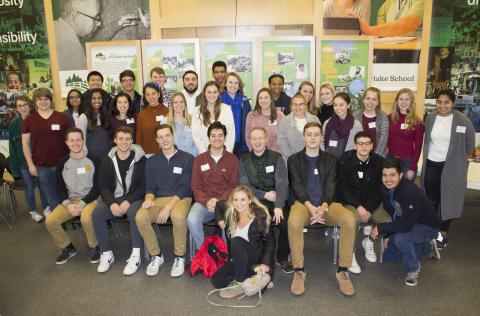 Friday morning, Head of School Matt Horvat welcomed 32-grads saying, "Once an Owl, always an Owl." It's a message that those graduates shared with the Upper School students during our annual Grads Return Day.
During a question and answer session, Overlake alums shared the process of navigating the college application process, picking a school, and life on a college campus. "The enthusiasm of these grads to come back and share what they've learned with our current students is reflected in the fact that they were the beneficiaries of it when they went to school at Overlake," says Christian Fulghum ('77), Director of Alumni Engagement.
The Office of College Counseling broke the sessions into three focus areas appropriate for grade levels. In small group conversations, alumni shared stories and answered questions. In Discovery Hall, 9th and 10th graders focused on making the most of their Overlake experience.
In the choir room, 11th graders heard tips on the college search and application process. Stanford Senior Sonja Johnson-Yu ('14) urged 11th graders to not stress out about the college application process. "This high school experience is never going to happen again so you need to live for the now." Sage advice from Johnson-Yu who remembered back to some of her Overlake memories. "I wish I spent more time with friends my junior year. I still think about cross country and the great time I had being in the musical."
Seniors met with grads in small groups in the Humanities Building where they discussed college selection and transition. Students also learned about making the most of their college experience and heard from not only college freshmen, but also college seniors preparing to enter the job market. "Coming back as a college senior, it's good to be able to share that knowledge while you're still in school but have the experience of being there for four years. I'm living the experiences that I share with them today," says William Corrin '14 who currently attends Chapman University. 
Corrin adds that coming back to Overlake is a mini reunion for him and seeing fellow graduates and teachers is extra special. Fulghum agrees and says there's never a shortage of volunteers for Grads Return. "We're a community of learners so what's the point of learning something if you can't share it? This knowledge is worthless if you just keep it to yourself," says Fulghum.
Click here to see highlights from Grads Return 2018.