Owls Hoopsters Open Season with Win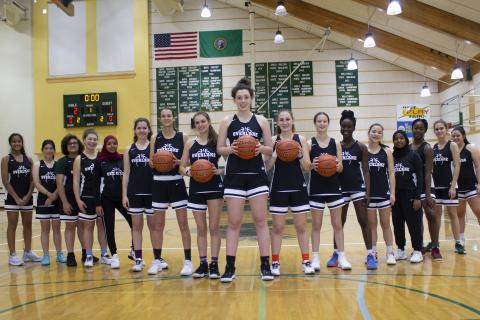 Overlake's Girls Basketball team starts their winning streak, with one. 
The Owls opened their season on the road, and water, by taking the ferry ride to Vashon Island last Tuesday. They defeated the Pirates 58-15.
It was the first win for Owls Coach Teron Sutherlin who used a full court press early on to force numerous turnovers. "The first game is always the one where you go into it not expecting too much from one another," says Sutherlin. "I knew we would make some mistakes, but I'm really impressed at how hard they worked together." 
That togetherness was led by Senior Eliza F. who had a dominating performance both in scoring and controlling the boards. As a 6-foot-three-inch post player, Eliza says it was refreshing to add steals to her repertoire. She got four against Vashon. "I definitely like to play up front and press," says Eliza who scored 14 points and hit double digits in rebounds. "I've played with different coaches and each one brings something new. I'm just trying to pick-up whatever they teach so it improves my game for the future. I'm a completely different player than I was as a Freshman."
So far Sutherlin likes what he sees with this squad. "Pressure bursts pipes, and a lot of teams don't like to play against teams that pick up full court play through the whole game. Players like Eliza take on whatever direction is given, and I appreciate it when the players not only take it but implement it immediately into the game."
The Owls continue their season road schedule with a game Saturday against Meridian. Tip-off is at 5pm in Bellingham.
Go Owls!