Dreams for Discovery Kicks off New Project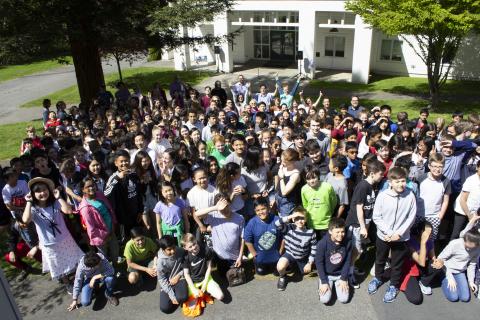 Looking to the future and celebrating our past, Overlake students and faculty took advantage of a beautiful spring day to say goodbye to our current Math and Science Building. 
Built in 1995, the current building is making way for a new state-of-the-art building that will expand labs, collaborative workspaces, and new technology. Tuesday's celebration was an opportunity to look back ahead of this summer's construction. "A building is really just a place," Mathematics and Computer Science Teacher Chris Border told students. "It's memorable because of the events, emotions, and achievements contained within its walls. While this site may not have the earth shaking importance in the history of the world as other places, it's a part of all of our histories, and it's important that we take a moment to reflect on how our lives are different because we have spent time here."
With hundreds of young minds challenged and shaped by teachers in our current building, younger Middle School students will be the first the occupy the new building expected to be completed in August of 2020. 
Students aren't the only ones looking forward to the changes, "We really want and really need a physical space that really supports what we're currently doing in the classroom as well as supporting the vision we have for the future," says Lisa Orenstein, Science Department Chair. "We bid a fond farewell to Math/Sci with all the accomplishments of which we've all been a part and in doing so, we usher in a new era of investigation, research, and discovery for Math, Science, and Overlake."
In addition to speeches, students had to the opportunity to participate in several activities. Among the most popular was note writing which allowed students to share their Overlake dreams with us and a whiteboard at which students could jot down favorite equations, molecules, and formulas. Those will have a place in our new building. 
"It was in this building that I decided to pursue an education in STEM," says Nikhil H. ('19) who spent his high school years studying in our current Math/Sci Building before heading off to college this fall to study Pre-Medicine. "It's been an integral part of my education, and I hope the new building plays an even bigger role in shaping the next generations' STEM students in a special learning environment." 
Phoebe W. ('19) is another Senior who is planning to study Aeronautical Engineering. She says while future students will get to learn in an incredible new building, it's the incredible teachers who made a difference in her academic life. "I'm sure that the new Math/Sci Building will be a success because it will have the same dedicated teachers and passionate students within it. Each class is built upon the one before it, and the teachers support us tremendously," explains Phoebe.
The celebration was topped off with group photos and an ice cream sundae party. It was the perfect way to kick off some major changes coming to our campus!
Click here for a slideshow of our Dreams For Discovery celebration.