Embracing our Mission Through Diversity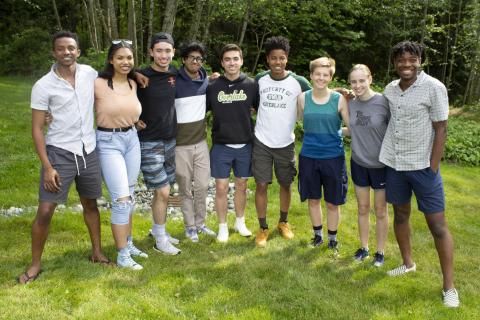 Diversity Committee Senior Honorees
Overlake students don't do their service work for recognition. That's why it may be surprising to know that, as a school, Overlake's Diversity Committee is honoring Seniors who have committed to making change through their work in diversity and inclusion. 
"This is our first year that we're recognizing seniors in the sustained work of diversity and inclusion in our institution," says Director of Diversity Mahtab Mahoodzadeh. "These students' work in making our community truly inclusive through acts of service and courage is one we want to honor. The work they've done will be continued when they pass the baton to future classes coming up."
The Class of 2019 Diversity Honorees are Trey R., Abigail S., Renee A., Rolf E., Ngai S., Joseph R., John B., Vivek P., and Marielle F. They were honored during Monday morning's announcements and at a banquet hosted by the Diversity Committee at the end of the school day. 
Their work in Impact Club, Black Student Union, Student Diversity Leadership Conference, Toxic Masculinity and Gender Inequality aren't projects or assignments, but rather the way they live their lives that benefits all students. 
"Just as in sports, these students are our All-Stars," says Overlake Board of Trustee Lena Tuffaha. "Their work has not only improved the lives of Overlake students but helped us adults develop to make Overlake a better place."
Click here to see a profile video on why this work is so important.
OverlakeTalks Event
Upper School students who have been at the forefront of social change had the opportunity to share their experiences with seventh and eighth graders last week. Called OverlakeTalks, in homage to TED Talks, the overarching theme was "The Power of Difference." Sponsored by the Middle School Impact Club, the messages shared ranged from diversity in the political field, to the "N" word, to feminism and the Indian culture. 
"The main reason we did this project is we wanted to spread the knowledge and knowing that there isn't that much of a bridge between the Middle and Upper School," explains Venkat S. ('22).
That knowledge came from a presentation by John B. ('19) who spoke about toxic masculinity and its impact on feminism. Students also heard from sophomore Mehek G. about the balance between feminism and being an Indian. Senior Joseph R. spoke about the use of the "N" word. Senior duo of Trey R. and Ngaya S. spoke about the difference between equality and equity. And junior Fifolu A. talked about her work last summer in Senator Kamala Harris' office. 
The MS Impact club chose Overlake students in particular to plant seeds of thought among their peers because the presenters were known to the audience. "We've got high schoolers that are making a difference and we can relate to them and being able to relate to them makes it ten times better," says Venkat.
Beyond planting seeds, the organizers hope that from these seeds conversation sprouts. "I think John mentioned it- talk to people- say more than 'hi, how are you doing?' Talk about these issues because they are really important," says Venkat. "We live in a bubble and when we're thrown into the world, we will experience these things and we won't know what to do. So, being prepared and talking about these things right now will help."
To see the presentations, click here