5th Grade Battle of the Books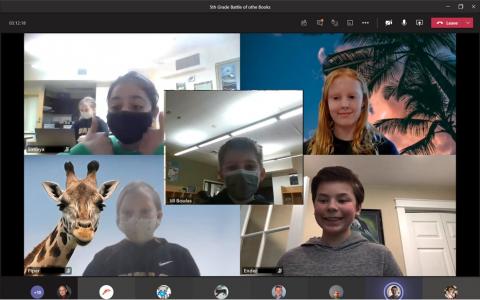 Congratulations to Green Team Two, winners of the 2021 5th grade Battle of the Books! Simaya, Adelle, Piper, Ender, and Carter emerged victorious after a hard-fought, eight-team Battle on Teams today.
The Battle of the Books is a combination reading contest and game show, in which teams of students compete to answer questions from a set list of books. Questions always start with "In which book" or "Which book," and the answer is always the title and author. For instance: "In which book is there a practical use for walrus butter?" The answer is: Grip of the Shadow Plague by Brandon Mull.
This was our first year doing the Battle of the Books online, and many kudos to the 5th graders for being our guinea pigs in this format, which did end up having some technical issues due to students being both on campus and at home. The students are troupers for sticking with it and participating eagerly, and their teachers (Mr. Olson and Ms. Bowles-Noble) were also troupers for helping keep them focused and doing the timekeeping and scorekeeping. Many thanks to all the 5th grade teachers for letting the students have this opportunity to read books and take some class time to participate in the Battle.
Thanks also to Kelly Vikstrom-Hoyt for her tech support on campus!