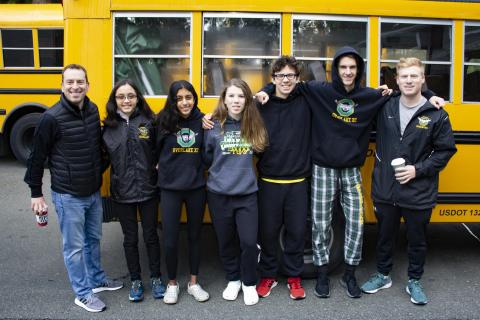 It's a busy weekend for three Fall sports programs vying for an opportunity at State. 
Friday morning, Overlake's Cross-country team departed for Saturday's State meet in Central Washington. Girls' Soccer heads to playoffs with a one or done contest Saturday, and Girls' Volleyball is state-bound after winning the Emerald City League's Championship.
Here's a breakdown on our teams from the head coaches. 
Owls XC 
Five Overlake runners are headed to Pasco for Saturday's state finals. On the boys' side, Captain Ryan Bartlow ('22) and Glyn C. ('22) will make their first appearance at State. The Sophomore duo made the cut at last weekend's Bi-Districts at South Whidbey. "State is great, but for us, it's really been about the journey getting there," says Interim Head Coach Colton Umberger ('14). "Last year was Ryan's first as a runner, but he's done such a tremendous job stepping up as a leader. Glyn is right behind him and has been getting faster and faster with each race." 
On the girls side, three runners will compete Saturday. Sophie S. ('22), Anya S. ('21) and Sameeksha D. ('23) qualified for state after making a podium appearance last weekend. "The story of this season has been a team that's been riddled with minor injuries, but there's so much promise with these young runners. We're all a bit nervous, and it's going to be a dogfight on Saturday," adds Umberger. 
Girls' Volleyball
Owls Volleyball punched their ticket to state last Wednesday when they won the ECL Championship after a 3-1 victory over Seattle Academy. Although the team plays Saturday in a Bi-District Championship against Kings, their trip to the SunDome for next week's finals is assured.  
With a return to the state tournament, the Owls will use their experience to build on last season's performance. With a 21-1 record, Head Coach Mindy McGrath says this squad can do even better. "I'm actually looking forward to the game with Kings because they're a favorite," says McGrath who is in her first season as Owls Coach. "It will give us a good picture of where we're at with the state's top teams. Sure, there's no pressure to make it, but it's a chance for me to evaluate our game and whether we rise to the challenge.
Girls Soccer
Girls' soccer is back to the drawing board after a difficult 5-1 loss to South Whidbey on Thursday night in Granite Falls. With neither team having a home field advantage, the young Owls discovered just how tough the competition can be out of league and far from home. With an 8-5-1 record, the Owls will now play on Saturday to qualify for a spot in at state. Coach Sally Goodspeed knows that this squad is up to the challenge. "This group works very hard, and we've shut out a lot of teams this season. I'd love it if we scored a ton of goals and made it easy on ourselves, but this team has gelled and creates its own opportunities. We'll have to wait and see the results."
The Owls return to Granite Falls on Saturday and face Lynden Christian's Lyncs who lost Tuesday 2-1. Game time is 11am.
Go Owls!