Benefit Concert Becomes Matinee Affair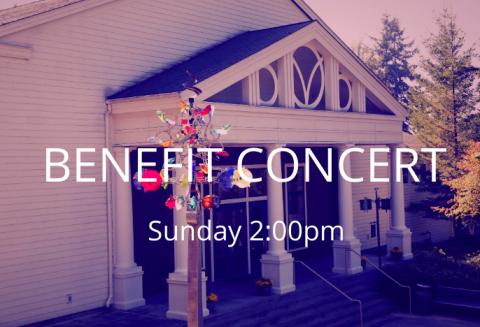 It's "take two" for this year's Benefit Concert.
Last month's snow cancellations forced the show to be postponed, now it's back and hitting the Fulton stage on Sunday afternoon. 
Student organizers Renee A. ('19), Tara M. ('19), and Alyssa J. ('20) have been hard at work putting this year's show together. This year's beneficiary is Art Strong Butte County which is rebuilding the arts in the Northern California after the devastating Camp Fire last fall. 
The beneficiary has ties to Overlake, as former Overlake teacher, Beth Highland, is now active with Art Strong and also teaching at an independent school in Paradise, CA. "All three of our organizers were touched by Beth's teaching, presence, and what she brought to Overlake theater classes," says Erin Gabriel, Overlake Arts Chair. "I think it's so special that they are all now working together to help the arts in a place that has seen so much pain."
Overlake's Benefit Concert has been an annual event since 2000 when Nadia Rawls ('04) organized the first show at the Meydenbauer Center in Bellevue. With new beneficiaries each year, the Benefit Concert has raised thousands of dollars for a variety of charities. 
Made up of Overlake students and faculty, the Benefit Concert is open to our entire community. Because of the snow, this year's show has had some shortcuts. No auditions have taken place, and the rehearsal takes place the morning of the show. OFTA is providing a lunch for the students, and performances range from musical acts to comedy and improv. 
Gabriel says that's what makes the Benefit Concert so different from other shows in Fulton. "This show is so much more than kids doing their thing," says Gabriel. "It's for a bigger cause where performing and coming together for a beneficiary. All the time and effort and the thrill of sending that check is the prize."
As for the performances, Gabriel encourages the students to give it their best and do it with joy. She adds that if something goes wrong then let it go, and finally, she says that even if the performance doesn't go perfectly to enjoy the moment and thank the audience with a bow. "That applause is their way of telling the kids, 'Thanks, you're great, and we appreciate you sharing your talents with us.'"
The Benefit Concert takes place on Sunday, March 10th at 2:00 p.m.