Veracross Launches with New Features Coming Soon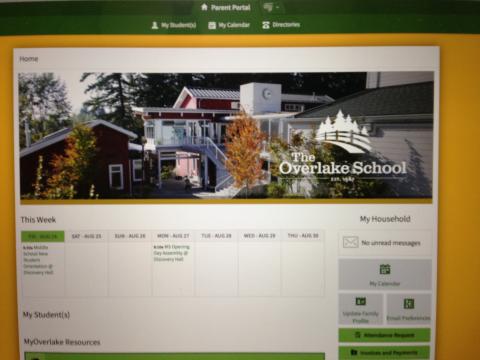 After years of planning, Overlake's new student information system, Veracross, has launched to the community with great excitement. Monday, the Portals feature of the system was launched to employees and parents. Students will receive access to their portals during the first weeks of school.
Portals is a great platform that allows parents the ability to see their student's classes and schedule, report card, attendance, calendars, directories and more, with new features launching soon.
One such feature is the ability for parents and guardians to make a tuition payment by ACH or credit card. ACH payments can be made without a fee while credit cards will be subject to a convenience fee depending on the type of card. The online tuition payment feature will be available on Wednesday, Sept. 5.
In addition, beginning in early October we will offer autopay functionality for parents who want to sign up for automatic billing by ACH or credit card.
Since launching Veracross, nearly half of our parent population has logged in. If you have not logged in yet, please note the original link that was sent to you in an email Monday has now expired. Veracross will automatically email you a new set-up account link when the expired link is clicked. 
You may also click on the following link to enter in your email and get a new link to activate your account.
Training resources will be available in the coming weeks. Technology and Communications team members will be available at upcoming potlucks, welcome back coffees, back to school nights, and more to answer any questions that parents might have.