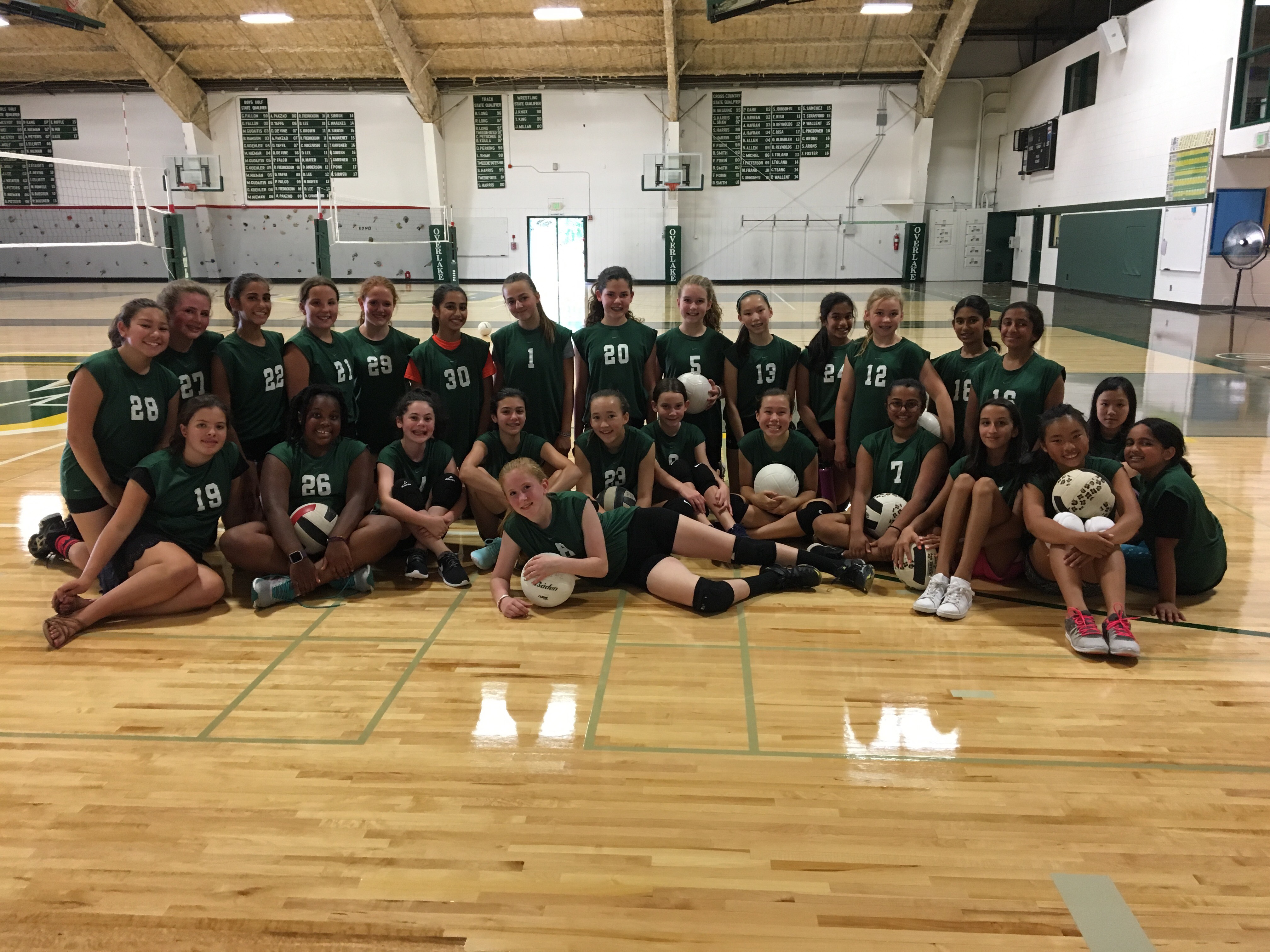 Welcome to the 2018 season of Middle School Girls Volleyball.
Medical: You must have a completed Medical Form and Master Information Form on file before you are able to participate in any Overlake sport.
Turnouts: Turnouts will be 3:15-4:30 on the first day of school – Monday, August 27th in the Field House. Additional practices that week will be Tuesday and Wednesday.  Please come prepared to work hard, wearing a t-shirt, shorts/spandex, knee pads, socks, and court shoes. Make sure to bring a water bottle!
Season: Practice days will be dependent on team placement. The Green team will practice Monday/Wednesday/Thursday and the White and Gold teams will practice Monday/Wednesday/Friday. Families will receive additional information from coaches about the season after turnouts.
Attendance: Our program is built around our student-athletes' commitment to their teams. All athletes are expected to attend all practices and games. It is important to know that out-of-school activities (music lessons, tutor sessions, religion classes, club sport practices, etc.) are not excusable. Academic responsibilities such as homework are expected of each athlete and therefore are not a reason to miss athletics. Missing two practices that are unexcused will result in sitting out a game. A third missed practice may result in removal from the team. We do understand that there are events which may result in your child missing practice or a game. Please let the coaches know in advance and do your best to schedule doctor appointments on non-activity days.
The coaches are looking forward to a fun season with everyone!
MS Volleyball D1 (Green) Game Schedule
| Date | Start | Event Name | Location |
| --- | --- | --- | --- |
| 09/12/18 | 4:30pm | MS Girls Volleyball Green vs. Bell. Christian (FHN | Field House North Court |
| 09/17/18 | 3:30pm | MS Girls Volleyball Green @ Bear Creek | The Bear Creek School |
| 09/20/18 | 3:15pm | MS Girls Volleyball Green @ UPrep | University Prep |
| 10/01/18 | 3:30pm | MS Girls Volleyball Green vs. Cedar Park (FHN) | Field House North Court |
| 10/03/18 | 3:45pm | MS Girls Volleyball Green @ Seattle Academy | Seattle Academy Gym |
| 10/08/18 | 3:30pm | MS Girls Volleyball Green vs. Bear Creek (FHN) | Field House North Court |
| 10/10/18 | 3:30pm | MS Girls Volleyball Green vs. Bush (FHN) | Field House North Court |
| 10/15/18 | 3:30pm | MS Girls Volleyball Green vs. Eastside Prep (FHN) | Field House North Court |
| 10/17/18 | 3:30pm | CTMSL D1 Volleyball Tournament (Overlake Hosting) | Gym Main Court |
MS Volleyball D2 (White) Game Schedule
| Date | Start | Event Name | Location |
| --- | --- | --- | --- |
| 09/12/18 | 3:30pm | MS Girls Volleyball White vs. Bell. Christian (FHN | Field House North Court |
| 10/05/18 | 3:15pm | MS Girls Volleyball White @ UPrep | University Prep |
| 09/24/18 | 3:45pm | MS Girls Volleyball White @ Eastside Prep | Eastside Preparatory School |
| 10/01/18 | 4:45pm | MS Girls Volleyball White vs. Cedar Park (FHN) | Field House North Court |
| 10/03/18 | 3:45pm | MS Girls Volleyball White @ Seattle Academy | Seattle Academy Gym |
| 10/08/18 | 3:45pm | MS Girls Volleyball White @ Bell. Christ. (Bell Pr | Bellevue Presbyterian Church |
| 10/10/18 | 4:45pm | MS Girls Volleyball White vs. Bush (FHN) | Field House North Court |
| 10/15/18 | 4:30pm | MS Girls Volleyball White vs. Eastside Prep (FHN) | Field House North Court |
| 10/20/18 | 12:00pm | MS White (D2) Volleyball Jamboree (@ Bush) | The Bush School |
| 10/11/18 | 3:45pm | MS Girls Volleyball White @ St. Thomas | St. Thomas School |
MS Volleyball D3 (Gold) Game Schedule
| Date | Start | Event Name | Location |
| --- | --- | --- | --- |
| 09/14/18 | 3:30pm | MS Girls Volleyball Gold @ SAAS | Seattle Academy Gym |
| 09/26/18 | 3:30pm | MS Girls Volleyball Gold @ St. Thomas | St. Thomas School |
| 10/02/18 | 3:30pm | MS Girls Volleyball Gold vs. St. Thomas (FHS) | Field House South Court |
| 10/08/18 | 3:30pm | MS Girls Volleyball Gold vs. SAAS (FHS) | Field House South Court |
| 10/10/18 | 4:00pm | MS Girls Volleyball Gold @ Bush | The Bush School |
| 10/17/18 | 3:15pm | MS Girls Volleyball Gold @ UPrep | University Prep |
| 10/20/18 | 9:00am | MS Gold (D3) Volleyball Jamboree (@ Bush) | The Bush School |
Athletics Resources
FORMS
EXTERNAL