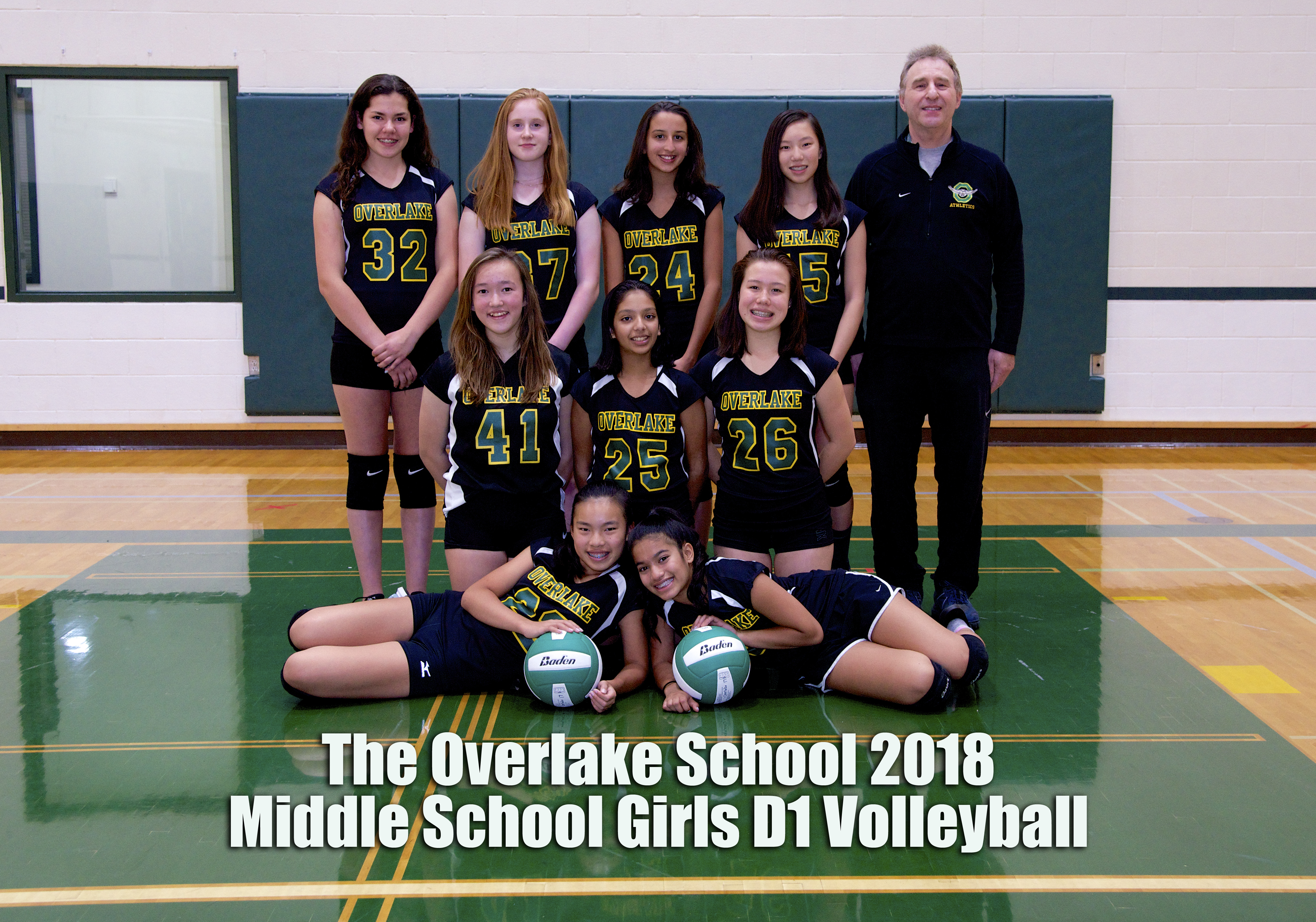 Volleyball is offered to girls in 6th, 7th and 8th-grades.
As in the past, we are expecting enough girls to be playing to have three different teams (Green, White and Gold).  The first two-three contact days will be used as an evaluation period to create teams.  The evaluations are used to place girls on the team that will match their emotional, physical and skill readiness.  
On the first day of practice, all girls will meet in the Palmer Field House (Big Green Building).
What do you need for the first day of practice on Wednesday, September 4th at 3:15?
1) Athletic clothing: (t-shirt, shorts/spandex shorts/or sweatpants, knee pads (recommended by not required), socks and court shoes 
2) Have completed and submitted all medical forms via SchoolDoc.com (https://www.overlake.org/myoverlake/forms/medforms).
MS Volleyball D1 (Green) Game Schedule
| Date | Start | Event Name | Location |
| --- | --- | --- | --- |
| 09/13/19 | 4:45pm | MS Girls Volleyball Green @ Bellevue Christian (First Presbyterian) | First Presbyterian |
| 09/18/19 | 3:30pm | MS Girls Volleyball Green vs. Bear Creek (Gym) | Gym Main Court |
| 09/20/19 | 3:30pm | MS Girls Volleyball Green @ Cedar Park Christian Bothell | Cedar Park Christian |
| 09/27/19 | 4:30pm | MS Girls Volleyball Green vs. Bellevue Christian (FHN) | Field House North Court |
| 10/07/19 | 3:30pm | MS Girls Volleyball Green @ Bear Creek | The Bear Creek School |
| 10/14/19 | 4:30pm | MS Girls Volleyball Green vs. Cedar Park Christian (FHN) | Field House North Court |
| 10/15/19 | 3:30pm | MS Girls Volleyball Green @ D1 Jamboree (Gym + FH) | Field House North Court |
MS Volleyball D2 (White) Game Schedule
| Date | Start | Event Name | Location |
| --- | --- | --- | --- |
| 09/13/19 | 3:45pm | MS Girls Volleyball White @ Bellevue Christian (1st Presbyterian) | First Presbyterian |
| 09/16/19 | 3:30pm | MS Girls Volleyball White vs. St. Thomas (FHN) | Field House North Court |
| 09/24/19 | 3:30pm | MS Girls Volleyball White @ Cedar Park Christian Bothell | Cedar Park Christian |
| 09/27/19 | 3:30pm | MS Girls Volleyball White vs. Bellevue Christian (FHN) | Field House North Court |
| 10/10/19 | 3:30pm | MS Girls Volleyball White @ St. Thomas | St. Thomas School |
| 10/15/19 | 3:30pm | MS Girls Volleyball White @ Cedar Park Christian Bothell | Cedar Park Christian |
| 10/17/19 | 3:30pm | MS Girls Volleyball White @ Bear Creek | The Bear Creek School |
| 10/19/19 | 1:00pm | MS Girls Volleyball White @ D2 Jamboree (Cedar Park Bothell) | Cedar Park Christian |
MS Volleyball D3 (Gold) Game Schedule
| Date | Start | Event Name | Location |
| --- | --- | --- | --- |
| 09/16/19 | 4:30pm | MS Girls Volleyball Gold vs. St. Thomas (FHN) | Field House North Court |
| 09/24/19 | 4:30pm | MS Girls Volleyball Gold @ Cedar Park Christian Bothell | Cedar Park Christian |
| 10/07/19 | 3:30pm | MS Girls Volleyball Gold vs. Seattle Academy (FHN) | Field House North Court |
| 10/14/19 | 3:30pm | MS Girls Volleyball Gold vs. Cedar Park (FHN) | Field House North Court |
| 10/16/19 | 3:30pm | MS Girls Volleyball Gold @ St. Thomas | St. Thomas School |
| 10/19/19 | 9:00am | MS Girls Volleyball Gold @ D3 Jamboree (Bush) | The Bush School |
Athletics Resources
FORMS
EXTERNAL