The goal of the English department is to help students develop their abilities to read, write, speak, and listen well. These skills are necessary for their progression as critical and creative thinkers, problem solvers, and effective communicators in a rapidly changing world.
Clear, coherent, articulate writing with mechanical correctness is a major objective of the department and the school. Students are taught the process of writing: brainstorming, thesis identification, outlining, drafting, editing, revising, and publishing. They learn to write the short, succinct paper; the longer composition; and the research paper of 10-16 pages throughout the program. Opportunities are also given for free writing and creative writing.
The English program explores literature as genres, uses a thematic approach to literature in connection with other disciplines, and exposes the students to a wide variety of literature from North America and the world.  Students discuss, interpret, examine, analyze, and evaluate fundamental works of the human experience.
Literature is the tool by which important skills are developed, but each teacher also hopes to cultivate within the students an appreciation of literary works that will enhance the quality of their lives; an awareness of the relationship between literature and culture, not only nationally but globally; an understanding of the evolution of individual and societal identities; and an ability to critique value systems.
The department believes that what one learns now is the means to how to learn in the future and how to become an independent learner for life. An important part of the program is to integrate technology into the curriculum, to help students access the vast amount of information available to them on the web, to sort, to evaluate, to assimilate, and to publish it.
Curriculum Requirements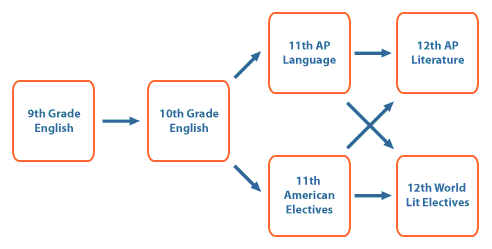 Upper School students are required to take four full years of English.  English 9 and 10 are required. Juniors and seniors choose one full-year elective. English Department Policy requires that all students in grades 5-12 bring print copy books with the ISBN specified by the teacher rather than other editions or e-readers for in-class studies. This allows students to access the page and paragraph being discussed easily and provides a richer and less stressful learning experience for all. If using a previously annotated text, please be sure to have your students annotate in a manner readily distinguishable from the notes already in the book.