Getting Ready for Spring Sports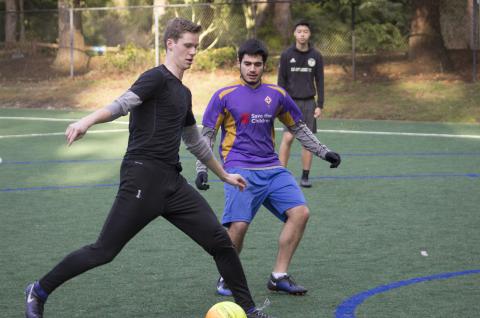 Owl student athletes are using afterschool as a time to get ready for spring sports.
Using the turf field adjacent to the gym, you can find athletes with lacrosse sticks, soccer players doing kick arounds, baseball players tossing a ball back and forth, and ultimate players throwing a Frisbee.
What you won't find at these out-of-season practices are coaches. WIAA regulations forbid coaches from drilling or coaching players, so team captains organize the optional sessions as a way to get ready for spring sports. "Creating this time to get our reps and work on fundamentals is what we focus on so we're prepared when official practice begins," says lacrosse leader Garrett D. ('18). "During the season, we will all struggle at one point or another, but we really want to get everybody at a level now where they can feel like they're improving and not feeling like they're behind."
Owl athletes admit that playing in rainy conditions in February may not feel like the season is close, but they say that the cohesion they develop is just as important as improving skills. The boys' soccer team has several players joining the optional kick arounds a couple times a week, and for many, it's a time to just hang out with teammates. "My club season just ended so this is the perfect time to play a little soccer and just run around," says Charlie H. ('19). "It's just fun to be around each other and build that chemistry." 
The first day of spring sports practice is February 26.