Robotics Team Prepares for State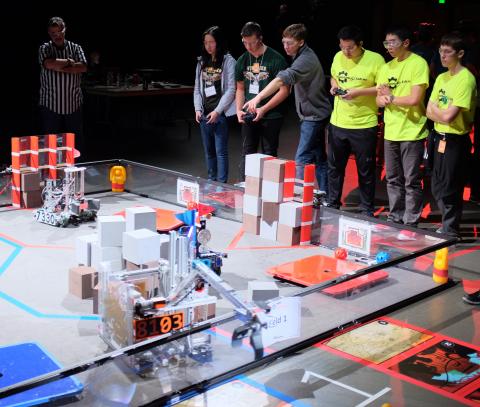 Fifty years ago, when Overlake first started, our students' first experience with robots was most likely through watching science fiction television shows like Star Trek and Lost in Space. Decades later our students are building robots that surpass the abilities of those early creations.  
This year's Upper School Robotics Team is extra special as they've secured a spot in February's state competition.
Led by teacher Brian Husted, the team's roster is made up of students who meet after school and compete in weekend competitions. "As coaches, we just basically sit in the stands and watch them," says Husted. "It's the kids who do their own thing. Some of them focus on building, others programming, and they all come together on driving it."
The team punched their ticket to state competition with an interleague win on December 17th when they teamed up in an alliance with EPS Null Robotics. Alliances are formed during competitions to knock out competitors during qualifying. "We got into state with a clean slate," says Pravir D. ('20) who has been with the team since last year. "Our partner, who we had an alliance with, may now be our competitor at state, so while the game stays the same, we've got to communicate to see what other robots can do and qualify with a good alliance."
Overlake's robotics team has grown quickly, and Rishi J. ('18) has seen that success first hand. His older brother helped start the program five years ago, and Rishi has been with the program from the beginning. "Our students run the show, and what runs them is their passion," says Rishi. "With 25 people on the roster, we get about ten each day. Each one is passionate whether it's working the notebook, coding, or building. Everyone has found their niche and that's what makes us work so well." 
The team is hard at work in the Campus Center preparing for the February 11th State Championship being held at the ShoWare Center in Kent.