Students Create Connections During the Pandemic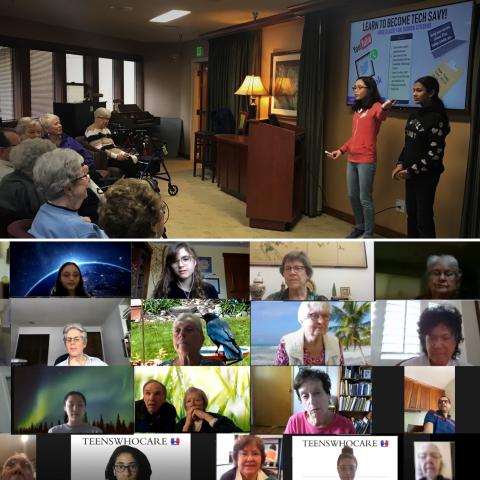 With social distancing, it's harder than ever to connect with people in need, but Overlake students are up to the challenge. 
As part of the Experiential Education requirements, students are creating unique opportunities to volunteer and make our community a better place. "At a time like this, there are lots of people requesting help, but, of course the challenge is doing it remotely," says Service Learning Director Jacqui Jackson. "There are opportunities, but they're difficult to find right now."
As students pondered who to help and fulfill the curriculum requirements, Jackson is aiding several Upper School students with the creation of non-profit organizations. Many have tied in previous service work from before the pandemic and adapted to a model that either works via technology or socially distanced. Two tenth graders are leading the charge to continue volunteer work at a time when many have abandoned it. 
Sameeksha D. ('23) was already working with many senior citizens to integrate technology into their lives. Leading computer courses from retirement homes and libraries, she enlisted several classmates to teach seniors how to use technology for personal and business purposes. With COVID-19 lockdowns, many elderly folks began to feel isolated and not connected to friends and family. That's when Sameeksha created Teens who Care. "Service hours are a requirement for many schools, and I knew that creating something as 'official' non-profits would give students a record of signing up and completing those requirements," explains Sameeksha. "By building a website, kids can sign up for a variety of opportunities while at the same time creating access for organizations that are in need of volunteers." 
Although she came up with the idea in April, it took a couple months to get the non-profit organization incorporated. Beyond teaching a tech class to older adults, she teamed up with two farming organizations who are looking for hands-on volunteers looking to do some physical work.  "I'm working with Farmer Frog and Bellevue's Urban Garden which was a natural fit as I was able to use my technology knowledge to create sign-ups and available times, and they encourage any prospective volunteers to sign up through my non-profit."
At this time there are 21 Overlake students signed up through Teens who Care. Volunteers have helped dozens of older adults utilize technology with one recent remote class which was publicized through King County Library System drawing 90-senior citizens to a single session. "One powerful aspect we use is intergenerational training where we have seniors on one end and high schoolers on another, and it's a really unique and enjoyable experience for all of us," says Sameeksha. "The seniors make that connection with us and can now use lifelong tools to connect with friends and family, and we see the impact it has made."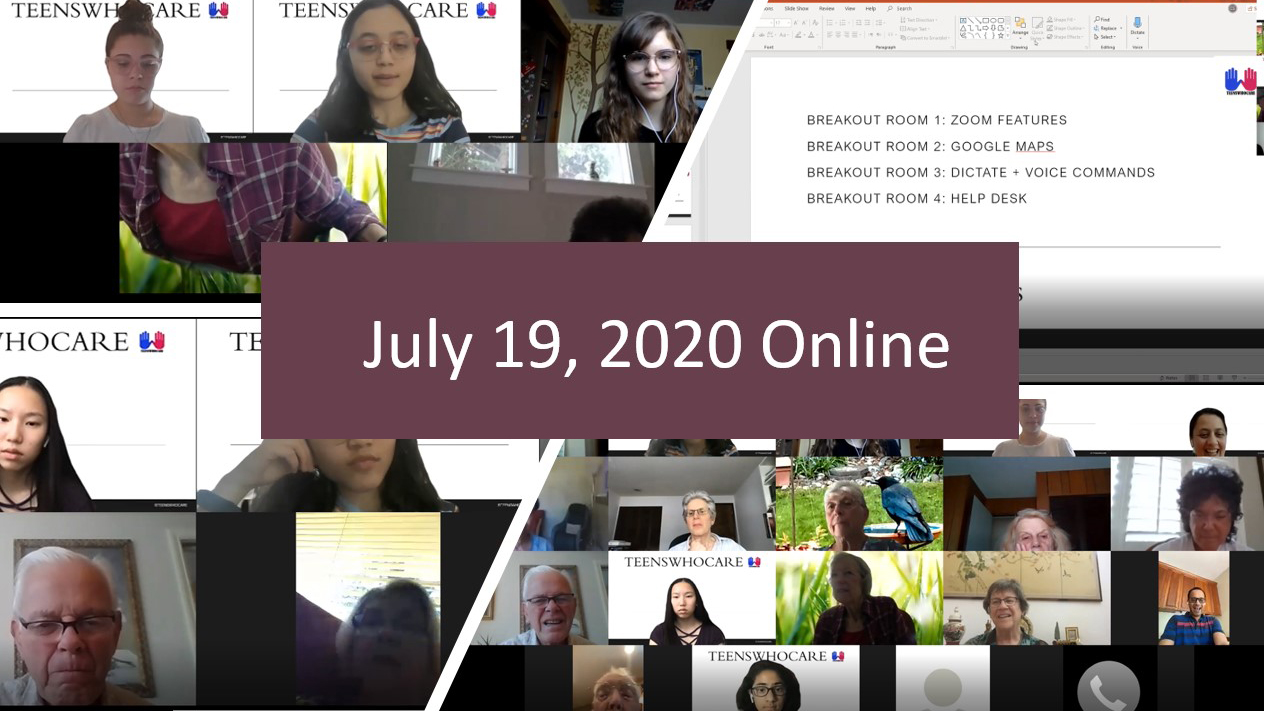 Teens Who Care volunteers at a recent online technology workshop
Another Overlaker, Nishka S. ('23) created Overlake Cares to provide grocery deliveries to those at high risk of contracting COVID-19. The idea came last summer from an observation while riding in her family's car. Stopped at an intersection, they saw an elderly woman struggling to carry her groceries as she walked through the crosswalk. "I thought, 'What if I was able to create a platform where we could harness the energy of our high school students to help with these tasks?' and I thought about my Mom who is a high risk of getting COVID-19 or my Grandmother who would have to risk going to a crowded market. That's where the idea of Overlake Cares started," explains Nishka. "I wanted it to be a platform where all people, not just those who are tech savvy could use and also give opportunities for students to earn service hours."
Overlake Cares has partnered with several Eastside retirement communities to provide assistance with more than just grocery deliveries. The client calls me directly, and I forward their request to one of our volunteers. That person will take the information including form of payment and address. Another volunteer will shop for the items and deliver them to the client. "It's taking time to get some of the details worked out but, at it's core, I want to make sure that as many students as possible can get involved. Not everyone has a drivers license so we have different signup sheets for different roles and what time works for them." says Nishka.
She's also looking to expand its volunteer opportunities with Overlake Companions, where students can be pen pals with the elderly or work on projects together. The Overlake Sophomore is no stranger to Service Learning. For the past six years she's volunteered at Water First International where she gained experience from entry level advocacy to positions on their High School Board. "Through that experience I was able to learn what it takes to operate a non-profit and what it means. It's important to do whatever we can for our communities because we're fortunate enough to have the resources and ability," says Nishka with one piece of advice for those aspiring to create a non-profit. "Start small, maybe with neighbors or relatives, and never give up. Once you have that foundation in place you'll see the growth and that what you're doing matters."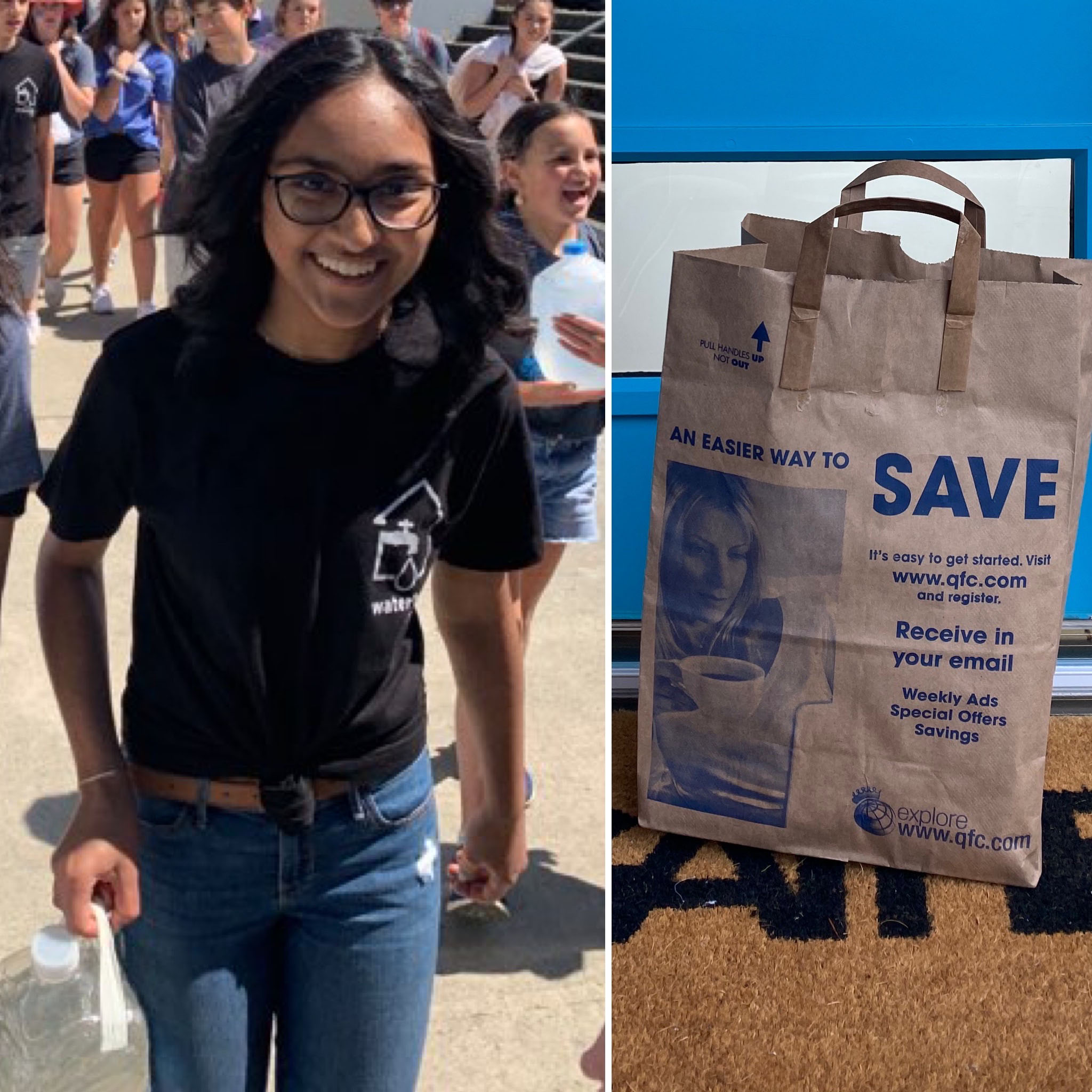 Nishka S. ('23) delivers on her commitment to service
In addition to these two great new non-profits created by Overlake students, Service Learning Director Jackson adds that additional opportunities are constantly being added to the Service Learning page. For example, she's unveiling new opportunities for trail maintenance that will maintain COVID-19 safety protocols which include working with groups with less than five people, wearing protective masks, and maintaining social distance. "Our requirements haven't changed," says Jackson. "There are opportunities, they're just more difficult to find right now. I love how many of our students created opportunities over the summer. They're rock stars!"