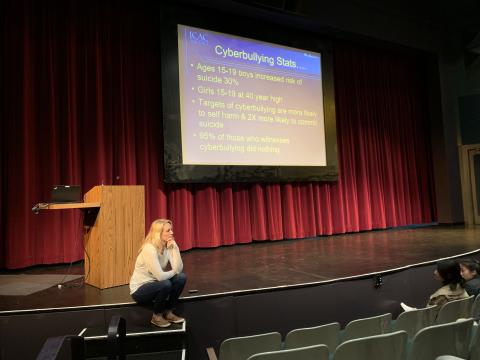 Former FBI agent, Stefanie Hanley, is no stranger to the latest apps. 
As a technology investigators she's assisted in the apprehension of dozens of cyberstalkers, sex offenders, and cyber threat suspects. No longer in law enforcement, Hanley continues to bring the internet safety message to schools.
Recently her message was targeted to Overlake 8th graders, but it's information that we can all use especially when it comes to privacy and personal conduct. 
Hanley reminded the students that just because you add the letters "JK" or "LOL" after a tweet or post won't keep them out of legal trouble. Hanley says students need to understand what they say in the cyber world has a very long paper trail that can come back to haunt them.
So to avoid those pitfalls, she told the students to ask themselves before they push send – "is this something I would say out loud?" If the answer is no, then don't say it online.
Here are some resources to further support healthy digital character development and discussion:
There are many topics that you can use from the above to have conversations tailored to your child and your family values. While many of those topics might be issues we have a worry or concern about, we also want to promote family discussion about all the great places we can live online. We hope parents and children can share the amazing expanse of the world that technology allows us.