Campers Take Advantage of our Beautiful Campus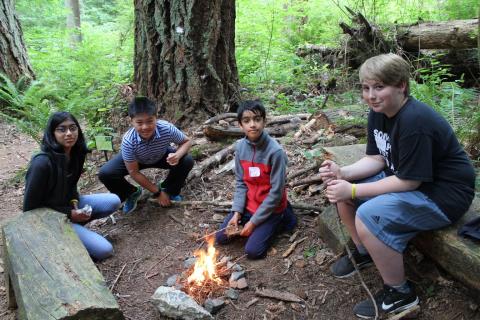 School is out and camp is in! The Overlake summer camps had a great week to start the summer off right. If you walked from one end of the campus to another, you would find campers in every corner enjoying all the places and spaces the Overlake campus has to offer. 
Taking advantage of our outdoor classrooms, the Wilderness Survival camp learned how to build and sustain fires in the woods, build shelters, and navigate using a compass. Later in the week they had planned on cooking over open fires, but an overnight shower of rain complicated those plans, providing a new opportunity to learn about fire building in less than perfect conditions. 
"I always think it's important to learn how to live and thrive outside if needed," said Mike Hufstader, leader of the Wilderness camp. Students were pushed outside their comfort zones, learning how to work together and problem solve, especially when it came to sustaining a burning fire in wet conditions.
With nearly 75 acres on the Overlake campus there's so much to offer students in terms of scenery. Every day, campers meet at the Owls Nest for community time that gave them a chance to mix up the day and bond with other campers through games and friendly competition. 
Dana Len also led two arts camps and encouraged the students to get outside to inspire creativity. Students took a nature walk around campus gathering interesting looking plants that they used to make prints using colored paper and paint. Each student got to showcase their own creativity and inspiration while walking around campus.
Meanwhile, up in the Gym, campers were learning team work while working on their sets and spikes up at Volleyball Camp or scrimmaging during Hoop Camp. And if you looked out the window of the gym, you might see the students from the Guinness Book of World Records camp on the field, launching a water balloon as far as they could or throwing a Frisbee the furthest.
Whatever your interest, there was something for everyone this week. Click here to see all the fun we had this week