Alumni as Overlake Coaches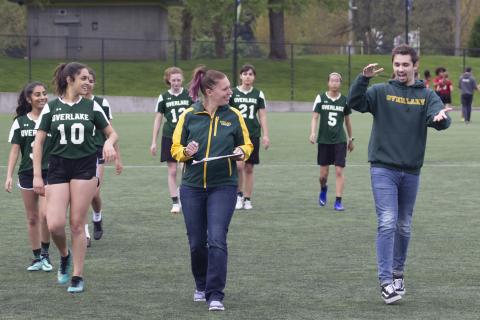 It's been said numerous times in our fifty years, "Once an Owl, Always an Owl!"
Several Alums are living that statement as Overlake coaches. "It's a really great community to be a part of and especially in Ultimate where the sport is growing," says Andrew Gold ('14) who assists Head Coach Nancy Iff in Varsity Girls' Ultimate. "I was part of the first varsity team in ultimate here at Overlake, and I'm trying to give back as much as the program gave to me."
Gold works in downtown Seattle, and that sacrifice of a long day's work and commute across SR 520 doesn't go unnoticed. "All of these coaches are committed to our student athletes," says Athletic Director John Wiley who is also an Overlake Alum with the Class of 1983. "Lots of these assistants played collegiately and that experience makes such a difference when teaching players certain aspects of the game."
This spring, Overlake has seven former Owls who are helping coach on the sidelines. Curtis Yokoyama ('13), Brandon D'Ewart ('11), and Colton Umberger ('14) are working with the Boys' Lacrosse team. Julia Auve ('05) and Becky Gold ('11) are assistant coaches with Girls' Lacrosse, and Grant Gibson ('14) is an assistant for Jeff Loranger's Girls' Tennis team. 
"There's no way that I could do my job properly without Grant's help," says Loranger who leads a group of varsity and junior varsity tennis players. "I can focus on the team, and he's able to pull a player aside and discuss to demonstrate how to be a better tennis player." The transition from Owls player to coach is something that every assistant recounts. "It's definitely nostalgic," says Yokoyama. "Colton and I often reminisce about our years playing together, but we hope to create new memories as coaches!"
Wiley adds that the majority of the coaches are less than a decade removed from the program so they can relate to not only being a student athlete, but also an Overlaker. "Let's face it, these kids are doing so much these days," says Wiley. "Our alumni have been there and likely know how these young athletes feel. We're so fortunate to have a community that gives back so much."
So next time you're at an Overlake sporting event, take a moment to say "Thanks" to many of our Overlake Alumni Assistant Coaches, and as always, "Go Owls!"