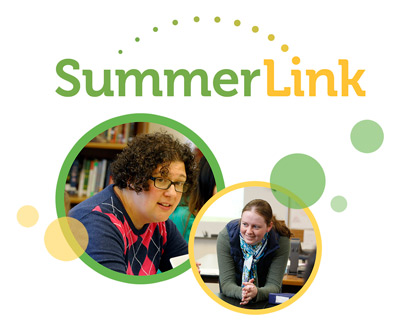 What Will Students Learn?
Academic Classes
Summer Link students take academic courses that target specific reading and math skills so that students solidify their learning from the previous school year and are prepared for the material they will encounter during the next one. The Humanities course focuses on close reading and writing skills, while the Math and Science class targets skill growth in multiplication, division, and fractions. Students also take a Habits and Skills course to learn organization and study strategies across all disciplines.
Afternoon Projects & Activities
Afternoon sessions provide experiential, interdisciplinary experiences in the arts, athletics, leadership, and outdoor education. Afternoon projects and activities change each week, giving students the opportunity to develop existing passions and collaboration skills.
Habits of Mind
Summer Link's program is anchored around Costa and Kallick's "Habits of Mind," a collection of behaviors that are indicative of effective and efficient problem solvers. Summer Link aspires to cultivate these habits that cross disciplines to support student learning, both inside and outside the classroom. The six specific habits that anchor all aspects of the program are:
Persisting
Thinking and communicating with clarity and precision
Listening and understanding with empathy
Creating, imagining, innovating
Thinking about thinking (metacognition)
Taking responsible risks

Daily Schedule
8:00-8:30am
Morning Drop-Off
Students taking the bus will arrive at 8:20am
8:30-9:00am
Breakfast & Community Time
9:05-9:55am
Academic Block 1
10:00-10:40am
Habits & Skills
10:40-11:00am
Break & Snack
11:05-11:55am
Academic Block 2
11:55am-12:45pm
Lunch & Activities
12:50-2:50pm
Afternoon Projects & Activities
3:00-3:30pm
Advisory & End-of-day Wrap-up
3:30-3:45pm
Afternoon Pick-Up
Students taking the bus will leave at 3:35pm
Discover the three themes of Summer Link
Summer Link instills Confidence, Competence, and Community among our students. Learn more in the three videos below.