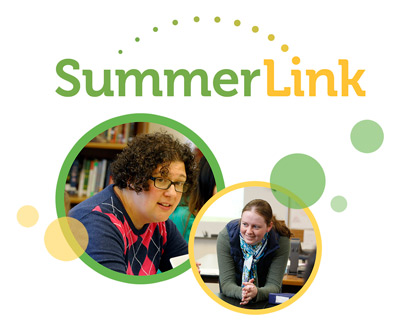 Our Mission & Approach
Summer Link, July 6 - 31, 2020
The Summer Link Program provides academic and enrichment opportunities to economically disadvantaged students to eliminate the summer achievement gap.
Summer Link supports students in their current school settings by solidifying the learning from the previous year and preparing students for the upcoming one.
In order to accomplish this, students take academic classes in the morning to strengthen their reading and math skills. In the afternoon, students engage in seminars in the arts, service, outdoor education, and life/study skills to develop a strong sense for who they are and how they want to contribute to the world around them. The program also includes a community gathering each morning and advisory program to cultivate bonds within the cohort and help students develop as leaders.
Summer Link is open to students entering 6th grade in the 2020-21 school year. Summer Link will add a grade level each year so that students who join us in Summer 2020 will return for academic and enrichment opportunities for three additional summers. Summer Link will grow to a four-year program that supports students during the summer from 6th-9th grades.

Daily Schedule
8:00am
Campus opens; Students arrive
Students taking the bus will arrive at 8:20
8:35am
Community gathering
9:00am
Block A: Humanities or Math/Science
10:00am
Block B: Humanities or Math/Science
10:55am
Individual work with teachers; Individual projects and reading for pleasure
12:00pm
Advisory and activities
12:30pm
Seminar
The themes and daily schedule for the seminar vary each week based on the topic
3:30pm
Bus leaves campus; Extended care available until 6:00pm

Program Timeline
March 1
Application process opens and applications are reviewed on a rolling basis
July 6 - 31
Summer Link 2020