Lacrosse Rides Momentum into Playoffs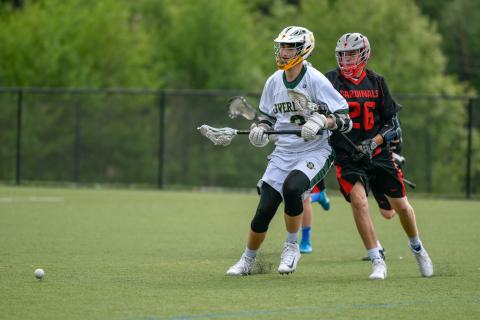 When it comes to sports upsets, analysts always tout, "That's why they play the game." As teams head to the playoffs, it's not always the team that has the best record that walks off the field with a trophy. Just ask any New England Patriots fan about the 2007 season!
That's why Boys' Lacrosse Head Coach Lou Sabino is optimistic about his team's chances this weekend. The Owls travel to Vancouver, Washington for a Saturday playoff game against Columbia River. 
The Owls enter the postseason with an impressive 11-1 win over Seattle Academy on Senior Day. The team hopes to ride that momentum into this weekend's action. "Our confidence is growing the longer we play together," says Lucas G. ('18). "I know I don't want to let my teammates down so I'm really pushing myself to be my best. They are too."
Sabino is encouraged with his team's cohesion and adds that they've come a long way since the beginning of the season. "We have a really solid defense. That comes with athleticism." says Sabino. "On the offensive end, you need to have good stick skills and that comes with practice and game experience so we've struggled for most of the year, but in the last couple games we're starting to produce."
With only two regular season opponents in their division, the lacrosse team comes off big wins against larger schools like Sehome who they beat 7-4 last week. With the 11-1 win against Seattle Academy last weekend, does Sabino think they can push this winning streak towards a state title? "These guys are pretty committed. We can be really good. Working towards a goal, getting better, and playing as a team is what I want," explains Sabino.
Click here to check out some photos from our Senior Day victory against SAAS.
If you can't make it to Vancouver this weekend, there are other opportunities to cheer for your Owls. The Varsity Girls' Tennis team heads to Seattle on Friday and Saturday for the Emerald City League tournament. Saturday, the Varsity Boys' Soccer team begins their post season quest for a title repeat in Sammamish. They'll play in the Bi-District championship ahead of the WIAA state tourney. Game time is 3:00 p.m.
Go Owls!