Tickets Available Now for James and the Giant Peach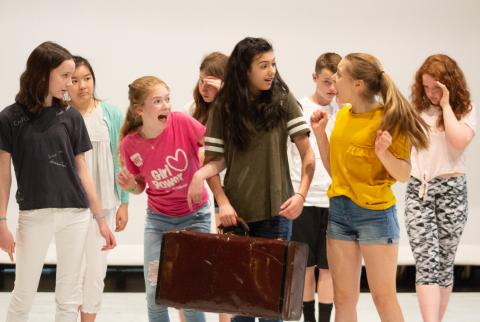 Tickets are now available for the May 18 and 19 performances of James and the Giant Peach. 
The cast is made up of teacher Emily Blackburn's 7th and 8th grade drama students and is being co-directed with Erin Gabriel. With performances in just a couple weeks, the students have moved from the classroom  to the Fulton stage. 
With a rigorous rehearsal schedule, students are taking advantage of any moment to learn lines or choreography. "There are a lot of moving parts in all of the big dances," says Lucy S. ('22) who plays the lead role of James. "I'm using every minute at school and at home to learn every line and move I have on stage."
James and the Giant Peach is a musical fantasy with eighteen numbers. In comparison, Annie has 19-numbers and is an hour longer. "The kids have been doing a fantastic job. Seeing them on stage this week is less daunting to me because I'm seeing the incredible flow that the actors are bringing to the stage," says Blackburn.
She adds that the kids are pretty worn out at the end of a rehearsal because of the grueling nature of the production. "We're not nervous at all. It's really going great, and it's fun to see all of it coming together," says Finley R. ('22).
Click here to get a peek at one of this week's rehearsals, and click here for ticket information.