Project Week 2018 Information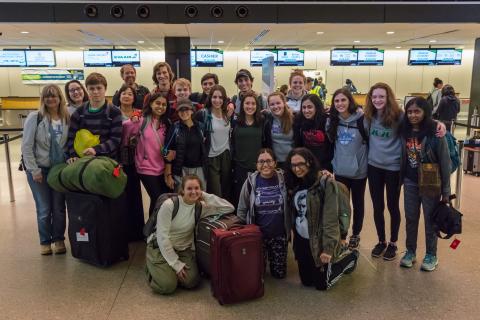 Project Week unofficially kicked off in the early hours of Friday, March 23 as students and faculty leaders boarded a plane for Cambodia.
The group spent Project Week at The Overlake School in Pailin. "The school is thriving," says project leader Kent Renno who made his fourth trip to Cambodia. "Our students are thrilled to go, and I feel supporting the teachers and students in Pailin not only makes a difference in the brick and mortar of the school, but also in the community."
Learning to weld or become a beekeeper were some of the projects students experienced during Project Week in the early years at Overlake. In fact, Project Week used to be called "Make Your Own Point Day," as a call to students to stretch themselves a little and engage in activities that might be outside their comfort zone.
Today, even though our projects may look a bit different, Project Week still holds true to those early ideals.
"It's like a semester of classes all in one week," says Project Week Director Joey Pauley. "We come together as a community to do all of these different activities in a different way that not only builds connections among us but also builds a compassionate community."
Other international Project Week trips include our Chamber Choir in Italy, our exchange project in France, Intercambio in Spain, and our trip to Nicaragua.
Project Week Director Joey Pauley works year round to make sure that the student experience is the most important goal. "Pushing students outside their comfort zone and reflecting on the group's journey is what we seek from Project Week," says Pauley. "We want our students to be ready to take an acceptable level of risk where they'll learn more."
Pauley adds that comes in Project Week's variety which could mean hiking across a desert or singing for the first time in front of an audience. It's also a learning area for families as for many, it's the first time when they're not in contact with their child for five days. 
Many of our Project Week offerings take place on Overlake's campus and include day trips. 
Project Week participants share their experiences through Project Week blogs and our photo sharing site through Vidigami where photos will be added daily. 
Make sure you check out some of their projects below.
The Overlake School in Pailin, Cambodia
Seattle Through the Artist's Lens
Vidigami Photo Sharing Public Slideshow