Not Your Grand Dad's PE Class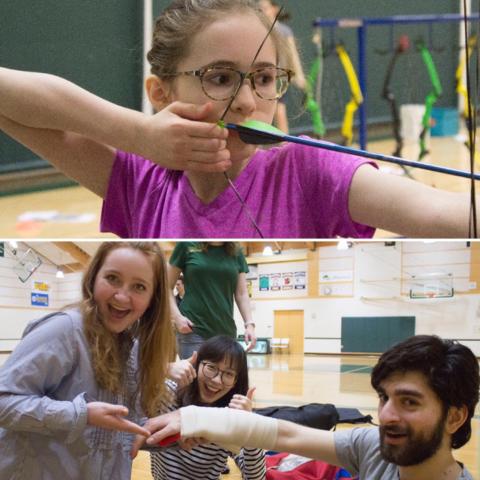 Being active for a lifetime.
It's what teacher Sara Thomas strives to do with her fifth and sixth grade students taking required Physical Education classes.
With activity units as archery, circus juggling, ultimate, and team handball, Thomas tailors a program for every single child in her class. "We already have kids who love basketball and soccer," says Thomas. "These sports are ways that we can reach our kids better. Maybe they'll never play a sport, but I want them to be involved in lifelong activities that promote fitness."
It's not uncommon to find Overlake students excelling in many untraditional sports like archery. This spring she's introducing another unusual sport to her curriculum. Tchoukball was invented in the 1970's by a doctor looking to reduce injuries and played among both genders.
That unique learning inside a gym doesn't stop with our middle schoolers. Kim Chase teaches a popular Introduction to Sports Medicine class where upper school students learn first aid. Recently students completed a lesson on using Overlake's AEDs. Students were assigned to not only use the lifesaving cardiac equipment but also went on a sleuthing mission to find all of our units. "In the event that something happens on our campus, it may be a student that has to retrieve that device that could save a life," says Chase. "My hope is that we'll never have to use one but give my students the knowledge to save a life."
Taping healthy ankles, applying air casts, and carrying backboards, students lean on each other in a safe environment. "You learn so much better in this field by being 'hands on'. If they decide to go into sports medicine, they'll have that jump on a kid who has never done it before in their training."
Right now, Intro to Sports Medicine students are joining Chase on our spring sports sidelines during practices and games where they're not only observing but assisting. It's another example of how our entire community works together to help each other out in an inclusive, fun, and life changing way.