UN Official Shares Refugee Message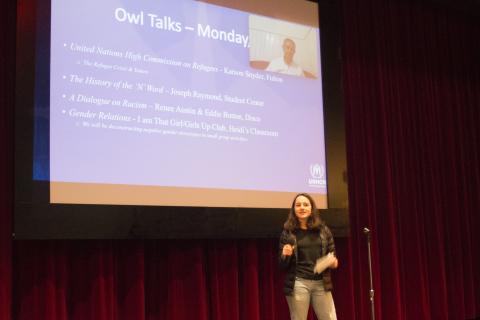 Monday's Spring Owl Talks featured four talks that focused on social justice, equity, and inclusion. Owl Talks started this year as our student led ASB uses US Parliament time to bring our student population together in meaningful exercises much like the popular Ted Talks. 
A highlight of the program was a discussion with Karson Snyder who is an Overlake parent and leads the United Nations High Commission on Refugees. Using Skype, Snyder joined the conversation from his office in Geneva, Switzerland.
"We tend to think of the U.N. as this large bureaucratic system, and we less often see the humanitarian aspect of it," says Anna D. ('20) who moderated the refugee discussion. "Within the theme of social justice, I think that Mr. Snyder's relationship to our community brings the issue of refugees closer to home."
Snyder explained to the students how UNHCR responds to situations around the world where refugees are in need. The majority of the cases never make headlines, but impacts millions of lives. He says there are about 65-million people who are displaced, of which 21-million are refugees. "You have to cross an international border to be considered a refugee," says Snyder. "In a world of ten billion people that may not be a huge percentage of the population, but it's a huge amount of people if you were to put them together in one place."
Snyder says the issue of displaced people rarely gets the media attention but impacts many more people. In places like The Democratic Republic of Congo, millions may flee their homes and move only miles away to escape conflict. However, their needs for shelter, education, and food are the same as a refugee. UNHCR is seeing historic numbers of internally displaced people and is responding quickly as needs arise. "Poorly written and enforced property rights are one of the principal reasons for all this conflict on local levels. I encourage students who are interested in the legal profession to consider working in this area as there's a huge need," Snyder told the audience.
After his presentation, there was a question and answer session.
"I don't know if it'll happen in my lifetime, but I'm optimistic that the work that the U.N. is doing and changes we make as young leaders will make a difference," says Anna. From the looks of the interest of our students, we think they will.