Overlake Celebrates Writer's Symposium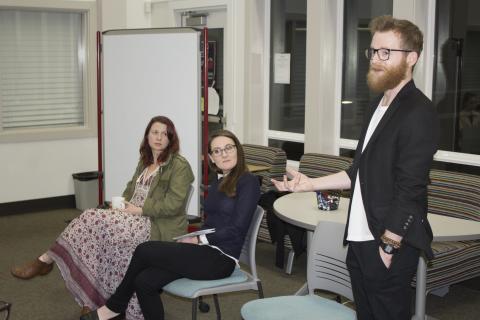 For 20 years, Overlake's Writer's Symposium has brought acclaimed writers to campus to work with students and faculty in classrooms during the day, and in the evening, give a complimentary talk to the public about their work, followed by an interactive Q&A.
In honor of the school's 50th Anniversary, this year's event features three amazing Overlake alums who are working in various writing and content development fields.
Eva Anderson ('98), a television writer and playwright, Nadia Rawls ('03) Director of Social Media and Audience Development for TED, and Brett Rawson ('03), writer and co-founder of The Seventh Wave, a literary organization, all spent the day on campus.
The trio met with the upper school in various workshops and panel discussions before ending the day at the library with a discussion among the school community which consisted of current and former faculty, parents, and alums.
To look back on the day, visit our photo slideshow here.