Overlake Summer Program: Explore the Variety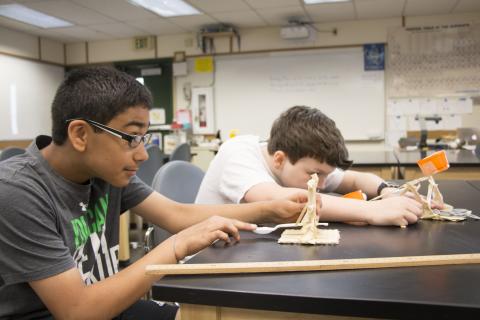 What is the backbone of Overlake's Summer Program? A dynamic variety of camp options facilitated by passionate teachers. "We have a robust mix of interdisciplinary camps," explains Overlake's Summer Program Director, Nate Edmunds. "We encourage students to explore that variety, pursuing topics that they already love and trying new ones that expand their horizons. Many of our campers seek new learning experiences to get outside of their comfort zones."
Overlake's Summer faculty model that very sort of behavior: "Many of our teachers offer camps outside of their traditional teaching disciplines to share their passions with the students and find ways to grow as educators," explains Edmunds. "This year, we have a physical education teacher leading an engineering camp and a science teacher facilitating the cooking camp. We hope our students follow in their footsteps by pursuing a wide range of interests."
In 2018, Overlake offers many of its staple middle school camps, including: Debate, the Mission in the Kitchen series, and Technology Challenge. We also have over a dozen new offerings from new faculty, including Experimental Art, Comic Book Creation, and Geometry + Art: Math in the Mind's Eye.
To learn more about the variety of camp offerings, click here to see a quick video.
Click here to register for a camp and take advantage of our early bird savings until April 1st.