Books I Have Loved 2018: Faculty/Staff Favorites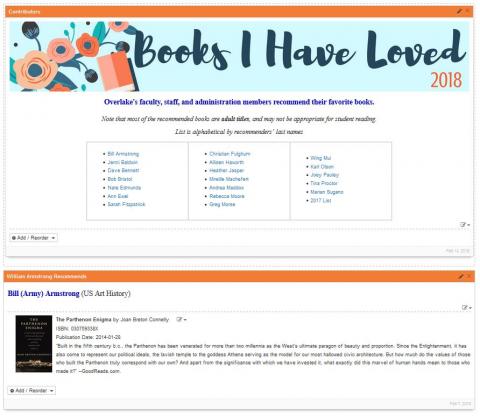 I think I was born with the impression that what happened in books was much more reasonable, and interesting, and real, in some ways than what happened in life.  --Anne Tyler
My books are water; those [books] of the great geniuses are wine. Everybody drinks water. --Mark Twain
Which book this year (or any year) was water or wine for Overlake's faculty and staff? In which book did events seem more real than those in real life? Which book made them forget their phones, pour orange juice on their cereal, or walk out of the house with their slippers on? Which book opened their eyes and their minds in ways they never expected?
It's time once more for the annual faculty and staff "Books I Have Loved" list. Participants sent the Library the titles of a book or books read in the last year or two (or just an old favorite) which blew them away in some manner, and which they would recommend to others.
Also check out last's year's recommendations.
Stories reinvent the world so that we can look at it.                      --Paula Fox, SLJ 3/95