Now is the Time for Project Week Discussions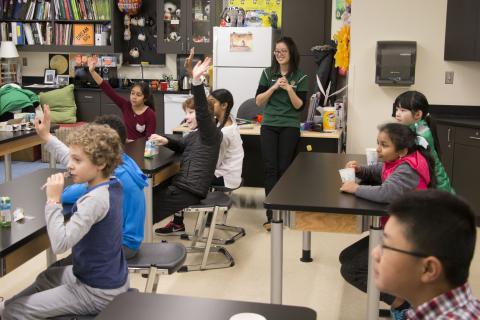 Project Week is still more than a month away, but for Director Joey Pauley, this is the busy stretch run for the program's 41 week-long experiences.
Wednesday morning, group leaders and students met to discuss logistics, forms, and goals. While extended education and international travel projects have already been meeting to discuss travel plans, groups planning local and regional experiences used Wednesday's time to introduce themselves and discuss itineraries.
Pauley says now is the time for parents to join the Project Week conversation. "Parents should ask their child how they're feeling about Project Week," says Pauley, "By asking, 'What are you looking forward to most for Project Week?' starts that conversation that gets everyone on the same page."
Pauley also says families can expect to fill out forms. Many were passed out in Wednesday's meeting, but more will be mailed in early March. They include contract and medical forms. He encourages parents to be specific in their answers because it will help group leaders out in the field should a situation arise.
Project Week experiences are meant to challenge Overlake students, and Pauley says he can answer any concerns that parents may have. He urges parents to do it sooner than later. "We want to make sure the student is challenged and pushes out of their comfort zone without getting them in a freak out zone where they're not able to learn anything," says Pauley. "These experiences are learning moments for our parents too. For some parents, this will be the first time their child is away from them."
Parkour is the perfect example of that mission. Working with Seattle's Parkour Vision, students will be challenged to do parkour stunts in a controlled environment. Tasked with creating a video, they'll need to use their physical and mental strength. "It's scary to jump between two walls even if they're not that far off the ground," explains Parkour Vision's Colin MacDonald "To go through the process of being scared of something, learning a way to approach it and progress through it, and then getting to the point where you're just doing it in a line of other things, that's pretty big."
Pauley agrees and says that the group leaders have done their jobs to create fabulous Project Week experiences. Focusing on reflection after Project Week is where he hopes student make the biggest gains. "Reflecting on those experiences and making meaning out of it is our goal. We want them to wrap it up in a way where they can tell it to others through their words and actions," says Pauley.
Project Week is just around the corner. This year it runs from March 26 to March 30.