Stagecraft Begins The Music Man Construction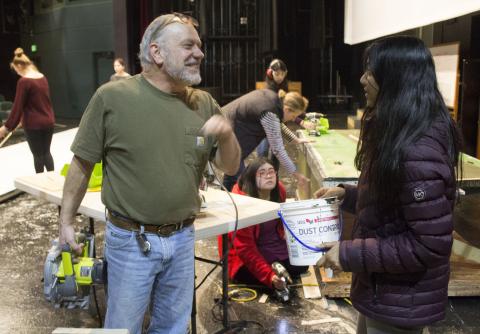 That sound of hammers, drills and saws coming out of Fulton can mean only one thing. Bill Johns' Stagecraft class is hard at work at another upcoming Overlake theater production.
This spring it's our all school musical, The Music Man, and, with a cast of dozens, set design not only has to be beautiful but durable and space efficient. "When you've got 65 actors dancing on stage, there's no room for scenery," says Johns jokingly. "All our scenery has to go up, and I can't put a big piece of scenery in the wings because I've got another group of dancers waiting to come on to the stage."
The Music Man is set in a small Midwestern town at the turn of the century. Because of the space limitations, scenery and prop design has to be used a multitude of ways. It also has to be rolled out easily, and projection is essential. The moving pieces will be choreography in itself for the tech crew. The Stagecraft students preplanned the design using every inch of the stage. With blue print created, construction began this week.
While Johns' teaches the class, student Zayd A. ('19) offers classmates construction tips. A veteran of Overlake Stage Tech, he's been working behind the scenes in Fulton since 6th grade. When it's show time, Zayd says his eyes are fixed on his team's work. "I'll be watching the play and notice something moving with the set," says the junior stage carpenter. "The last thing you want see is something you've built not work properly." 
Whether it's set construction or making a prop, Stagecraft students work hard in class and utilize every minute of their D block period. Taking out tools and materials, doing the actual construction, and clean up all have to be done before heading to the next class. "There's a good fifteen minutes making sure all the sawdust is swept up, the screws are off the floor, and everything is put away," says Johns. "Not only are there other classes that use this space, there are sixty kids dancing on this stage after school. Every student has an assignment, checks off their 'to do' list, and helps out others if their tasks are completed."
With students measuring, painting, sawing, drilling and nailing, the team's effort in building a realistic stage set is aided by Overlake theater teachers' experience in outside professional projects. Directors bring that knowledge to the students, and Zayd says it means sticking to their plan. "We stay pretty true to Bill's blueprints. I think the audience is going to appreciate the hard work we put into this show," says Zayd.
Click here to see the stagecraft students at work.
Make plans to join us for this Overlake all school musical favorite. The Music Man opens to the public in a month with shows on March 2nd and 3rd.