Overlake Students to Visit Gates Foundation Visitor Center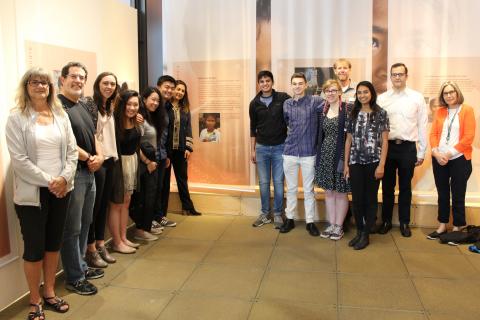 When students return from Winter Break, they'll begin the New Year with a visit to one of Seattle's most popular exhibits. The Bill and Melinda Gates Foundation Visitor Center exhibit Half the Sky: Turning Oppression into Opportunity for Women Worldwide opened to raves from visitors.
A major part of the exhibition includes Overlake's commitment to our Cambodia school. The school exchange has become an international news story and made famous by Pulitzer Prize Author Nicholas Kristof's book also titled Half the Sky.
In June several Overlake students and teachers who visited the school in Cambodia shared their experiences with museum visitors. Many asked students and faculty questions about the experience. "It's really had a big impact on my life, and led me to teaching, says Allison Schoening '08 who made two trips to Cambodia. "Ten years later, it's still my responsibility to show my commitment and gratitude for a service trip like this. It's humbling, and I'll continue to give my time and efforts to keep something like this going."
While we know that not every Overlake student can be a part of the Project Week visit to Cambodia, the visit to the Gates Foundation Visitor Center will certainly be a place for every student to see the impact education has on women's lives.
Overlake teachers are even doing activities ahead of the exhibit trip to discuss making a positive change. Teacher Jennifer Pan will lead fifth and sixth grade students in recreating If the World Were a Village, which is a book that describes the world if there were only one hundred people.
Middle School students will take the field trip on January 3rd and 4th, and Upper School students will go on January 9th and 10th.
If you would like to experience Half the Sky exhibit there's still time. The exhibit runs until January 27, 2018.