Once Again, Holiday Helpers Delivers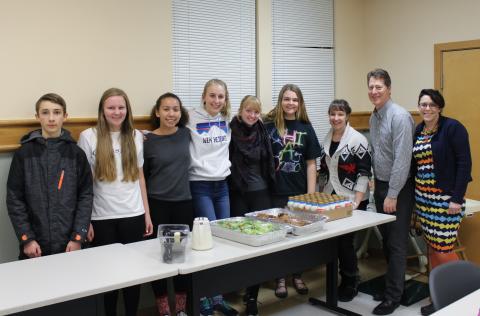 As final exams wrap up this week, Overlake's Outreach Club put a wrap on another successful Holiday Helpers gift drive.
For fourteen years, Holiday Helpers brings together Overlake homerooms and departments in gathering donations for local children. "Holiday Helpers wrapped up this week, but the work began back in October by the student leaders of our Outreach Club," says Service Learning Director Beth Highland. "They went to the organizations, obtained wish lists from families, and coordinated with all the players here on campus to get every request filled."
There was no shortage of volunteers as homerooms made shopping trips to stores to fulfill every child's request. Gifts were then taken to Discovery Hall where students kept an inventory and checked off each item from the list. "Not only do we make sure that every child gets what they want, we also make sure that if there are multiple children in a family making requests that each one gets an equal number of presents," says Highland.
On Wednesday evening, volunteers loaded several vehicles with food and gifts to Avondale Transitional Housing. This year sixty families were aided by Overlake's donations for kids at Avondale and foster children on the Eastside at F-factor.
For the two seniors who spearheaded this year's effort, the realization that this was their last Holiday Helpers was beginning to set in. "We've been so busy that I really didn't think about it," says Katie D. "I think when I get home tonight, it'll start to set in that this is my last one at Overlake."
That sentiment is exactly what Highland tries to express to our students with service learning…the effort can continue long after students leave Overlake.
For Senior Kate M. service isn't work. "What brings me back every single year is that it's so much fun. It doesn't feel like service, and I think that our community comes together in a really special way," says Kate M.
Click here to see our students in action, and thanks to everyone who contributed with donations and time for this wonderful effort.