Coach's Lesson on Winning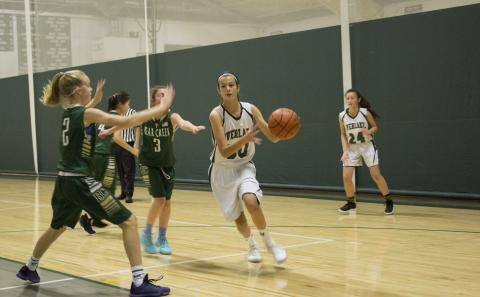 With more than 120-players, Overlake's middle school boys' and girls' basketball continues to be our most popular Owl sport.
The argument can be made that it's because of our winning traditions, but, more importantly, it's the idea that playing the game is fun. Winning is a by-product.
A great example of that is in our MS Girl's D1 team coached by Mike Davidson. Last year's team was undefeated, and this year they opened their season with a win over Bear Creek. Running out to a 14-0 lead, Davidson pulled his starters and allowed his reserves to play for several minutes.
Surveys on youth sports show that the number one reason kids quit sports are negative experiences of losing or being involved in games that are blow outs. "As a coach, I've got the responsibility to make sure my own kids are having fun, but I've also got a responsibility to our opponents," says Davidson. "We teach sportsmanship, and that starts with how you greet the opposing team into your building. It's showing respect to your opponent by picking them up off the floor no matter what their ability level."
For Davidson, it's also the opportunity to give his less experienced players more playing time. Parents understand the importance of a positive experience for all our players, and they get in on the action by cheering for every player on the roster.
During a timeout, Davidson asked his players if any have ever experienced being down 14-0 from the start. "If it feels like I'm purposely managing this game to keep the score close, the answer is 'yes' . A lot of it isn't about the score, but rather how we act and how it looks to our fans and opponents," says Davidson.