Students Attend California Diversity Conference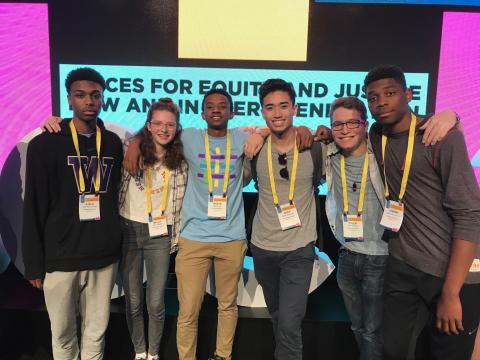 Six Overlake students joined 6,000 educators and students at the 2017 People of Color Conference in Anaheim, California last week.
The annual National Association of Independent Schools event explored the theme: Voices for Equity and Justice Now and in Every Generation. With the mission of providing a safe space for leadership and networking for people of color and allies of all backgrounds, participants broke into groups for exercises and discussion.
Overlake students didn't waste any time in sharing their experiences with our campus community. During a lunchtime meeting on Wednesday, Student Diversity Leadership Conference students led a workshop on prevalent issues affecting Overlake. Surveying and discussing issues of race, gender identity, and religion, students were encouraged to discuss how Overlake can improve our students' experience. "It was important to do this while it was still fresh on our minds,"says Ngaya S. ('19). "The conference is a life-changing experience so when you return, you want to hit the ground running while you still have those feelings."
Faculty also attended the meeting, and, both, students and adults agree that discussions on diversity in regards to admissions, faculty positions, curriculum, and facilities can make Overlake more inclusive. Head of School Matt Horvat was also in attendance, and answered questions from participants.
Changing the world starts at home, and Overlake's SDLC says the time is now. "There are two steps to doing the right thing," says Tyler S. ('18). "You want to do the right thing, and you do the right thing. You don't become a good person in this world by accident. It takes focus and action."
Overlake's Student Diversity Leadership Conference will continue to hold future meetings and invites all for enlightening discussion.