Helping Refugees One Dessert at a Time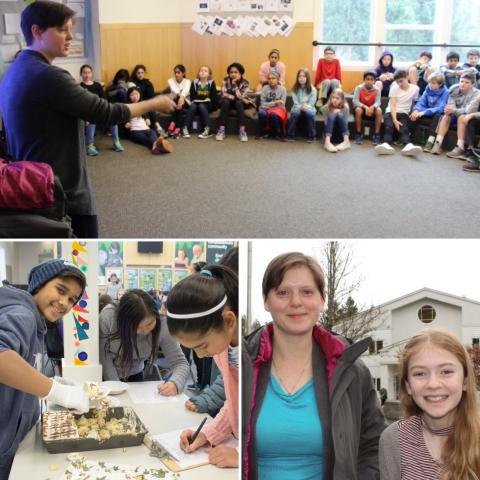 Overlake Middle Schoolers made a difference with their actions and taste buds Friday.
As part of the Junior ASB Social Action Committee, members welcomed guest speaker Wendi Lindquist of Refugee Women's Alliance (ReWA) during study hall. Forty students took part in the presentation and a question and answer session.
Lindquist told students about the work ReWa does with local refugee families and encouraged students to support the work by fundraising and contacting state and congressional legislators. "These kids are at an age where they're making their minds up about the world," says Lindquist. "As engaged citizens they're going to take action on a variety of issues to the community we serve. Whether that's advocating for citizenship, housing, or women's rights, those are all things that we will see the benefits of in our organization."
Kate L. '22 helped organize the bake sale and also reached out to Lindquist to speak at Overlake. "The refugee crisis is a huge part of our world right now. I chose ReWa because they work with refugees in our community," says the eighth grader. "I was really surprised at the great turnout. I really wanted kids to come, and their questions were amazing. It really took the discussion to the next level."
Students didn't waste any time in putting that message into action. During lunch, they conducted a bake sale that offered foods from diverse cultures and countries.  Selling treats at fifty cents a piece, they collected 90-dollars during the 45-minute lunch break. Money raised from Friday's bake sale goes to ReWA which will use it in their work to aid King County refugee families.