Basketball Opens Season with Trifecta Wins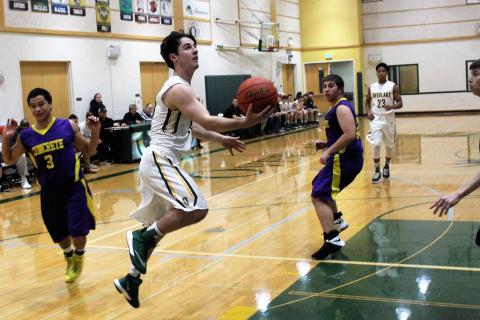 Overlake's Basketball Season kicked off in winning style Tuesday night as the Owls swept Concrete in a non-league hoops triple header.
The evening began with JV Boys' Basketball. The Owls dominated on the boards, and team depth kept players fresh. Leading from the opening bucket, the Owls won 70-21.
The second game featured Overlake's Girls Basketball team under new Head Coach Courtney Hellem. Fans were treated to an explosive first half offense in which the Owls put up 40-points. Hellem's team also played a full court press and that led to several turnovers. The crushing defense held Concrete without a point until the 1:28 mark of the second quarter. With only nine players on the varsity roster, Hellem made sure to give players ample breaks. "There's a lot of excitement about wanting to get better," says Hellem. "We may need guards to play post and vice versa. We need to make sure that we can play all roles and be versatile." Jane C. '21 had several fastbreak points, and Eliza F. '20 affected several shots on defense as the Owl girls cruised to a 58-14 win.
The evening's finale was Varsity Boys' Basketball. Losing Captain Tellier L. '18 to injury, the Owls were dealt another early blow with an ankle injury to Junior Trey R.
Freshmen Oliver T. and Alan N. filled the void and provided a spark off the bench by contributing several points, rebounds, and steals. "It's going to be an exciting brand of basketball. We're a deep team so I can see every single player making a contribution," says Coach Justin Prohn. Although smaller than the Lions, Senior Captains Bryce D. and Connor T. physical play wore down the visiting team. The final result was the Owls winning 61-41.
It was a special night for Overlake basketball and a spectacular way to kick off the season. Click here for a gallery from opening night.