Bump, Set, and Spike! Volleyball Heads to State!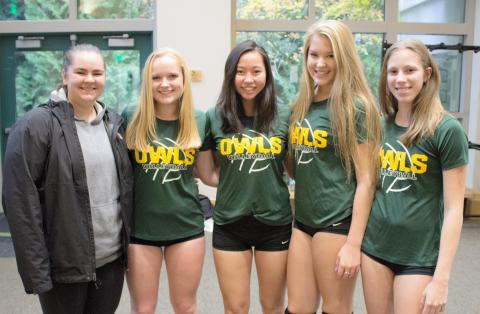 Owls' volleyball is back!
After more than a decade absence, the Girls' volleyball team heads to Yakima for the finals of the 1A State Championships on Friday and Saturday.
First year Coach Justice Magraw has built a young squad into a victory machine. The team has not lost a game since their regular season opener on September 6. Riding a 15-game winning streak, Coach Magraw gets a front row seat for every win. "We take each game at a time," says Magraw. "We work to improve on any mistakes and just get better."
That teaching doesn't stop with the coach. Senior Captain Liv S. says communication with teammates can be just as important as skills. "We all have different roles, and we pick each other up if things don't go our way," says Liv.
For Liv, volleyball's growing pains are nothing new. She's battled injuries, coaching changes, and losing streaks. "This year is special so I tell the players to enjoy it. It's not every year that you can play for a championship," says Liv.
Coach Magraw agrees. As a player for the University of Washington, she traveled the country playing top collegiate teams. One year she even made it to the Final Four. "I tell them to take it all in and enjoy all that comes with the state tournament. The travel, hotels, fans, and championship arena are so much a part of that experience," says Macgraw.
The team departs after a Thursday evening practice, and their first game is Friday at 5:15 against Kiona Benton (15-2). As for researching the competition, Macgraw says it is not her highest priority. "I've got to get our team ready to play," says Macgraw. "If we play our best, we're going to go far."
If you can't make it to the game, make sure to follow the Owls on our twitter page. Go Owls!